Apple_iphone_app+
TextExpander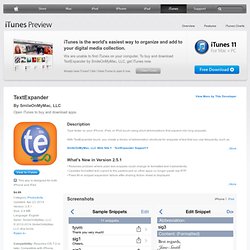 Description 2010 Macworld Utility of the Year. Type faster on your iPhone, iPad, or iPod touch using short abbreviations that expand into long snippets.
Description Fly around the planet with a swipe of your finger with Google Earth for iPhone, iPad, and iPod touch. Explore distant lands or reacquaint yourself with your childhood home. Search for cities, places, and businesses.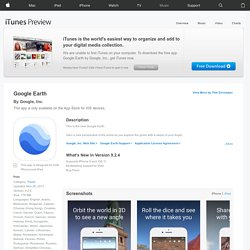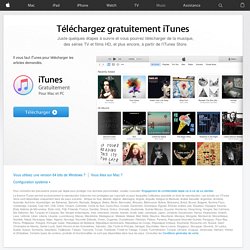 Juste quelques étapes à suivre et vous pourrez télécharger de la musique, des séries TV et films HD, et plus encore, à partir de l'iTunes Store. Il vous faut iTunes pour télécharger les articles demandés. Configuration Windows requise PC avec un processeur Intel ou AMD à 1 GHz et 512 Mo de RAM Windows XP Service Pack 2 (ou version ultérieure), éditions 32 bits de Windows Vista, Windows 7 ou Windows 8 Les éditions 64 bits de Windows Vista, Windows 7 ou Windows 8 nécessitent le programme d'installation iTunes 64 bits 400 Mo d'espace disque disponible Connexion Internet haut débit requise pour utiliser l'iTunes Store
Tweetie 2.0
What in the world ... by ~*messo*~ Can you please do away with the suggestions and discovery mess that appears at the top of TL if you pull down again when you reach the top?Make a paid version and let people have the option to block all content from people they do not follow. If I have been off twitter for 13 hours I should have the option to read all 13 hours. "Load more tweets" is a sham.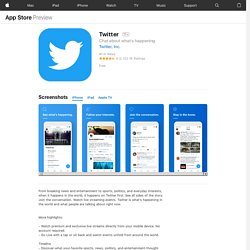 Description Accept no imitations, Now with over 12 million downloads, here is the original bubble popping app for the iPhone/Touch! Strangely addictive and fun game where you pop the virtual bubbles as fast as you can. How many can you pop before the timer runs out?Beware that bubbles may re-inflate, and some bubbles may not be as they appear.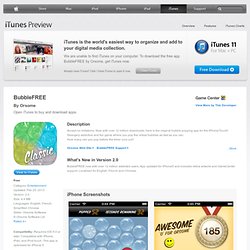 BubbleWrap
FreeWifi Connect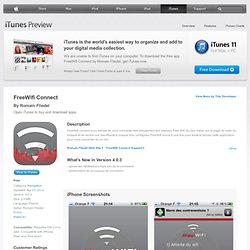 Description FreeWifi connect vous permet de vous connecter très simplement aux réseaux Free Wifi. Au lieu d'aller sur la page de login du hotspot et de rentrer vos identifiants à chaque fois, configurez FreeWifi connect une fois pour toute et lancez cette application pour vous connecter en un clic. Parcourez GRATUITEMENT la carte de France pour trouver un point d'accès près de vous (plus de 200 000 hotspots recensés) grâce à sa localisation exacte et voir ainsi la couverture du réseau FreeWifi. MODE D'EMPLOI-------------Pour pouvoir utiliser cette application vous devez être client chez Free et avoir récupéré vos identifiants FreeWifi.
Description Football, Rugby, Tennis, Formule 1, Basket, NBA, Golf, Rallyes WRC, Moto GP, Cyclisme,… Où que vous soyez, suivez toute l'actualité sportive en temps réel sur votre iPhone et iPod touch avec l'application Sports.fr ! - Accédez à l'ensemble des articles et brèves sportives pour plus de 40 disciplines- Suivez en direct les rencontres de Football (Ligue 1, Ligue 2, Equipe de France, Premier League, Liga, Bundesliga, Calcio), de Rugby (Top 14, Pro D2), de Tennis (Roland Garros, Wimbledon, Masters ATP et WTA), de Formule 1 (tous les grand-prix de F1), de Basket-ball (Pro A, Lega, ACB), NBA et du Tour de France en cyclisme- Consultez les derniers résultats et classements des principales compétitions- Recevez les dernières news sport et les résultats de Football, Tennis et Rugby avec le service d'alerting gratuit Sports.fr- Retrouvez l'actualité du sport en images avec la galerie photo Sports.fr- Personnalisez vos news avec « My Sports »
Sports.fr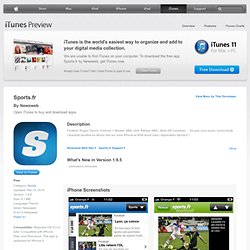 iBowl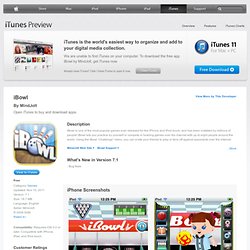 Description iBowl is one of the most popular games ever released for the iPhone and iPod touch, and has been installed by millions of people! iBowl lets you practice by yourself or compete in bowling games over the internet with up to eight people around the world.
Football 09
iTalk
Description iTalk Recorder is a full-featured recording app with a streamlined and intuitive user interface. Press the big red button to record; press it again to stop. You can append to existing recordings, choose from three levels of recording quality (11.025, 22.05, or 44.10 kHz sample rates), and manage your recordings, all with just a fingertip. You can email recordings straight from iTalk. iTalk also supports direct file sharing through iTunes.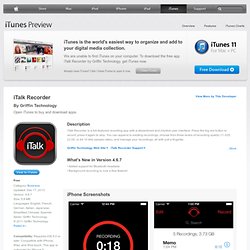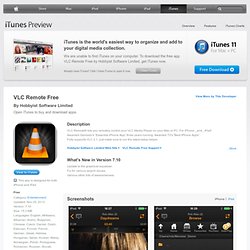 VLC Remote Free
Description VLC Remote® lets you remotely control your VLC Media Player on your Mac or PC. For iPhone _and_ iPad!Awarded Gizmodo's "Essential iPhone App" three years running. Awarded T3's "Best iPhone Apps".
Le Code de la route
Annoying by ZoeHikaru Even after this update, the first and the third still stand - I'm unsure about the second. First, comments that I've made on others' post aren't refreshing past mine.
Facebook
Description AroundMe allows you to quickly find out information about your surroundings. How many times have you found yourself in need of finding the closest Gas Station? AroundMe quickly identifies your position and allows you to choose the nearest Bank, Bar, Gas Station, Hospital, Hotel, Movie Theatre, Restaurant, Supermarket, Theatre and Taxi.AroundMe shows you a complete list of all the businesses in the category you have tapped on along with the distance from where you are.
AroundMe
Description Radioline gives you free access to more than 35,000 News, Sports, Talk, Music radio stations and podcasts worldwide in just one application!At home, at work, in commute, in your car, easily find and listen to radio stations using 3G/4G or Wi-Fi, and discover new ones according to your mood, location, musical taste and more! Create an account on Radioline so you can also have all your favorite radio stations available across your different devices (Computer, tablet, smartphone)
LiveRadio
myLite
Description TELECHARGEZ VITE LA NOUVELLE VERSION !La nouvelle version de l'appli Première a comme objectifs de vous accompagner au mieux dans vos sorties ciné et de vous plonger dans l'univers Première, au cœur du cinéma. Cette nouvelle version vous offre :
Premiere
Shazam
Description Shazam recognizes music and media playing around you. Tap the Shazam button to instantly tag, and then explore, buy, share and comment. Tagging is unlimited, so use Shazam as much as you want.
VNC Light
Remote
Fring