Cooking
Roasted Tomato Hummus Recipe. FitSugar reader elisabeth was so inspired by fellow member krystles's roasted tomato recipe, she used it as inspiration to make this roasted tomato hummus, and posted it in the Healthy Recipe Group.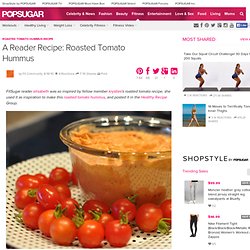 I love make homemade hummus, it is so easy and so cheap! But I must admit eating the same flavor each time is a little boring, so inspired by krystles roasted tomato recipe, I baked up some heirloom tomatoes and added them to my finished hummus. The result was simply delicious and I couldn't stop dipping my veggies in it. Here is a basic hummus recipe and you can easily jazz it up with things you have on hand but I highly recommend roasting tomatoes to add. To see the recipe, just read more. Recipe For Creamy White Bean Veggie Dip. Hummus has always been a staple snack for all my parties, but since it's so popular, it can get boring.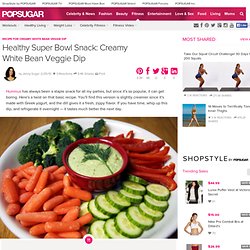 Here's a twist on that basic recipe. You'll find this version is slightly creamier since it's made with Greek yogurt, and the dill gives it a fresh, zippy flavor. If you have time, whip up this dip, and refrigerate it overnight — it tastes much better the next day. Ingredients. Healthy Pizza. Perfect Pairing: Pizza craving… on a diet Even though I live in the third largest city in America which is chock full of good restaurants that deliver to your doorstep, I rarely order food for delivery.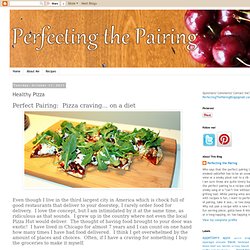 I love the concept, but I am intimidated by it at the same time, as ridiculous as that sounds. I grew up in the country where not even the local Pizza Hut would deliver. Customizable Bread Bowl Breakfast. Perfect Pairing: Refrigerator leftovers Recently I had a wonderful winter retreat with some of my very best girlfriends at my family's lake house.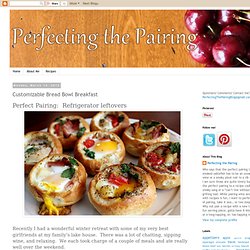 There was a lot of chatting, sipping wine, and relaxing. We each took charge of a couple of meals and ate really well over the weekend. Simple Appetizer Recipe: Raw Zucchini Ribbons with Parmesan Recipes from The Kitchn. After years of world travel and dining out in everything from hole-in-the-wall joints in Laos to the finest finery of Paris's restaurants, the real food luxury for me when I travel now is to cook in, using the most simple ingredients, listening to local radio, and serving on the most grandmotherly plates.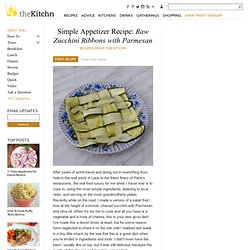 Recently while on the road, I made a version of a salad that I love at the height of summer: shaved zucchini with Parmesan and olive oil. When it's too hot to cook and all you have is a vegetable and a hunk of cheese, this is your new go-to dish. Oven-Roasted Tomato Jam. Sometimes a recipe arises from a confluence of ideas and inspiration -- a convergence of influence, flavor, and downright craving.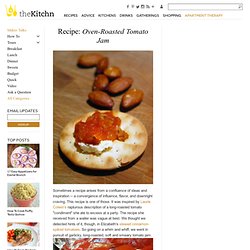 This recipe is one of those. It was inspired by Laurie Colwin's rapturous description of a long-roasted tomato "condiment" she ate to excess at a party. The recipe she received from a waiter was vague at best. We thought we detected hints of it, though, in Elizabeth's stewed cinnamon-spiked tomatoes. Spinach, Feta, and Tomato Quiche Recipe. Nutritional information Serves 6 The filling here can be replaced with your favorite veggies and cheese, and you can increase the amount of quiche batter for larger pies using this simple equation: count ½ cup milk for every egg used.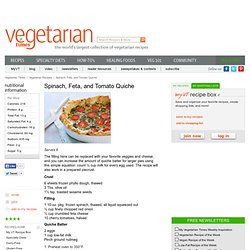 The recipe will also work in a prepared piecrust. Crust 6 sheets frozen phyllo dough, thawed 3 Tbs. olive oil 1½ tsp. toasted sesame seeds Filling 1 10-oz. pkg. frozen spinach, thawed, all liquid squeezed out ½ cup finely chopped red onion ½ cup crumbled feta cheese 10 cherry tomatoes, halved Quiche Batter 2 eggs 1 cup low-fat milk Pinch ground nutmeg. South Indian Recipe: Brown Rice Appams Recipes from The Kitchn. Brown Rice Appams Makes about 8 appams 1 cup uncooked brown rice, rinsed and drained1 scant teaspoon of dried yeast1 teaspoon honey or brown sugar3 tablespoons + 3/4 cup water1 cup cooked brown rice1 teaspoon cumin1 1/4 cup coconut milk3 tablespoons coconut oil, melted1/2 teaspoon saltcashews and cilantro (optional garnish) Set the uncooked rice in a bowl and cover with water.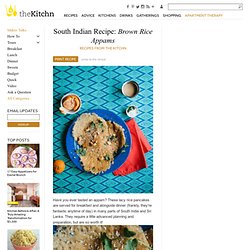 Allow to soak for about 3 hours. In a separate small bowl, combine the dried yeast and honey with 3 tablespoons water, let rest for 1 hour. Late Summer Recipe: Farro Risotto with Corn and Tomatoes Recipes from The Kitchn. I love when I am pleasantly surprised by a new recipe, as I was with this creamy, comforting farro risotto.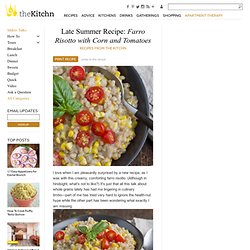 (Although in hindsight, what's not to like?) It's just that all this talk about whole grains lately has had me lingering in culinary limbo—part of me has tried very hard to ignore the health-nut hype while the other part has been wondering what exactly I am missing. Halloumi and Watermelon Bites with Basil-Mint Oil. Yes, it's a long name, isn't it?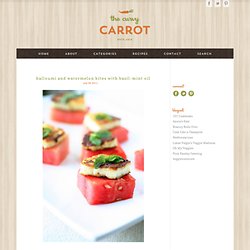 But I urge you to give this one a chance. It's watermelon season, and unless you have an army to feed, you may run into the issue of having lots of leftover watermelon in your fridge (if you buy a whole melon, of course). And while bits of ice cold watermelon with maybe a little red pepper flakes and sea salt are extremely delicious, a girl needs more options when it comes to watermelon dishes. I had this recipe bookmarked for several reasons. 1). Sage Walnut Pesto Pasta with Oven-Roasted Tomatoes. Prep: 20 min Total: 45 min Try Kitchen View!
Take your computer to the kitchen and view this recipe full-screen, with step-by-step directions. Culinary School: How to Make Gnocchi | Handle the Heat. One-Pan Dark Chocolate Chunk Skillet Cookie. Pumpkin Oatmeal Cookie Recipe. Pumpkin Oatmeal Cookies with Dried Cranberries & Chocolate Chips It's been awhile since I have posted a pumpkin recipe. I thought I would give you all a break from my pumpkin madness. I went kind of crazy with the pumpkin this year:) I made these Pumpkin Oatmeal Cookies with Dried Cranberries & Chocolate Chips a few weeks ago and have been waiting impatiently to share the recipe. I couldn't wait any longer because these cookies are super scrumptious and a good recipe is meant for sharing. These cookies have all of my favorite ingredients-pumpkin, oatmeal, Fall spices, dried cranberries, and chocolate chips. The Best Juice for Anti Aging - The Best Juice Recipes to Cure Common Health Complaints - Shape Magazine - Page 2.
When stress, free-radicals, and lack of exercise and sleep attempt to age your skin, Patty James, certified natural chef and author of More Vegetables Please! , recommends fighting off Mother Nature with antioxidant-packed fruits and veggies that can easily be juiced. Ingredients:1 1/2 cups liquid of your choice (water, any kind of milk, or aloe vera juice)1 cup blueberries1/2 cup strawberries1 large leaf kale (thick stem removed)1/2 medium beet. Fitness Advice, Workout Videos, Health & Fitness | Bodyrock.tv. Hi BodyRockers, It's been a while since we have shared a recipe with you guys, and I thought you might enjoy what Freddy and I had for lunch today. This recipe is light and quick and requires only a few basic ingredients. If you love pizza like we do, but are looking for a healthier alternative give this recipe a try.
Crafts: Nutella Ice Cream. This simple recipe isn't really ice cream, but you'll think it is when you're eating it. Actually you'll just think it's the best thing you've ever eaten. Pay attention to the health bits, Portion control or you'll eat the whole batch. You can substitute Almond Butter if you want to make this a healthy recipe, or if you just hate being happy. Nutrition. Lasagna Primavera. Pan para celiacos sin gluten | Bienestar.
Cookies 3,2,1 Sin gluten y sin huevo. Margherita Tart. Wrap it all up: Vegetarian. Perfect Pesto Picnic Panini. Sundried Tomato Walnut Pesto + Mozzarella and Arugula Sandwich. Aged Balsamic Caprese Salad over Pesto Quinoa. Grasshopper Squares Recipe at Epicurious. Watermelon mojito pops! Oh so blueberry mojito. When life gives you lemons... make a cocktail! Baked Spaghetti Pizza. Linguine with Tomatoes and Basil - Pasta Recipes. Next to No Calorie Vegetable Soup Recipe. Receta de pizza verde. Tomates secos al horno. Jugo verde. Galletas de 5 ingredientes.
---