Business
China Law Blog : China Law for Business. Top 10 Reasons Why You Should Use Twitter For Your Business! 13 Business Books That Will Blow Your Mind. Having never taken a business class in college I find that I read and listen to a lot of business books to round out my education.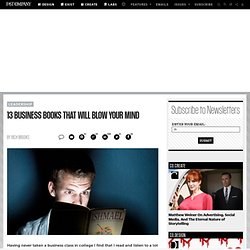 The books usually aren't "How to Manage Your Cash Flow" but rather get me to rethink the way I run my business, which--despite no business classes or diploma--continues to be in business 13 plus years after I started it. In that time, here are 13 of the books that had the biggest impact on how I run my business (in no particular order): Drive: The Surprising Truth About What Motivates Us by Daniel Pink: If you supervise anyone in your business, this book is a must read.
It shows that what science knows about motivation, business isn't putting into practice. The Crisis of Credit Visualized. Forex Trading Online: Foreign Exchange (FX) Trading | Currency Trading.
---