Lp Course
Kelly Alwood product review of the Bogota entry tool lock picks. Bogota2.jpg (Image JPEG, 1190x1683 pixels) - Redimensionnée (49. Bogota1.jpg (Image JPEG, 1190x1683 pixels) - Redimensionnée (49. Locksport - Lockwiki. Attendees at a security conference learn about and try to beat various types of locks.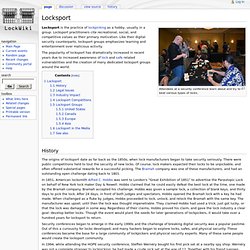 Locksport is the practice of lockpicking as a hobby, usually in a group. Locksport practitioners cite recreational, social, and competitive values as their primary motivation. Like their digital security counterparts, locksport groups emphasizes learning and entertainment over malicious activity. The popularity of locksport has dramatically increased in recent years due to increased awareness of lock and safe related vulnerabilities and the creation of many dedicated locksport groups around the world. Lexique des terminologies au sujet des portes et des ouvrants.
Raf's lockpicking world. Afficher le sujet - Crocheter une serrure avec diabolos, champignons ou bobines. M'enregistrer Vous devez être enregistré pour vous connecter.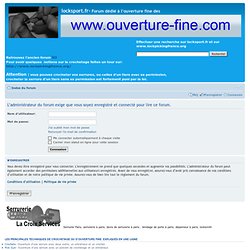 L'enregistrement ne prend que quelques secondes et augmente vos possibilités. L'administrateur du forum peut également accorder des permissions additionnelles aux utilisateurs enregistrés. Avant de vous enregistrer, assurez-vous d'avoir pris connaissance de nos conditions d'utilisation et de notre politique de vie privée. Assurez-vous de bien lire tout le règlement du forum. Dimple - Lockwiki. A DOM dimple lock.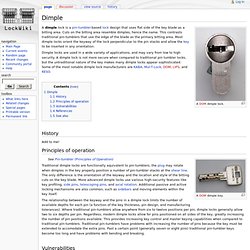 A dimple lock is a pin-tumbler-based lock design that uses flat side of the key blade as a bitting area. Cuts on the bitting area resemble dimples, hence the name. This contrasts traditional pin-tumblers that use the edge of the blade as the primary bitting area. Most dimple locks orient the keyway of the lock perpendicular to the pin stacks and allow the key to be inserted in any orientation. Lock Picking Basics. Lock Picking Basics Cylinder tumbler door locks I had an urge to have a look at lock picking again, probably something to do with the weather and the fact that I cannot get into the workshop at the moment and being snowed in !.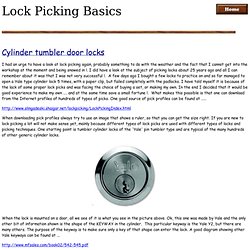 LockPicks. Lockpicking - by Deviant Ollam. Society - TOOOL Lockpick workshops. Lockpicking is the art of opening a lock without damaging it or using a key.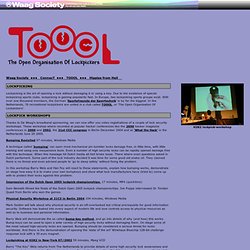 Due to the existence of special lockpicking sports clubs, lockpicking is gaining popularity fast. In Europe, two lockpicking sports groups exist. With over one thousand members, the German 'Sportsfreunde der Sperrtechnik' is by far the biggest. In the Netherlands, 70 recreational lockpickers are united in a club called TOOOL, or 'The Open Organisation Of Lockpickers'. Thanks to De Waag's broadband sponsoring, we can now offer you video registrations of a couple of lock security workshops.
How to Pick a Lock. Edit Article Edited by Ben Rubenstein, Versageek, Y L, Andy Zhang and 188 others Locked out of your house in the middle of the night?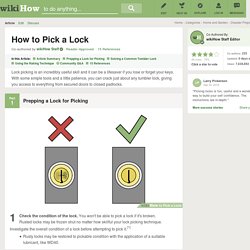 Have you lost the key to the padlock on your shed? How To Pick A Lock. View topic - FAQ: LP101 Frequently Asked Questions. Here is what I've been also working on LP101 FAQ and Newbie Guide.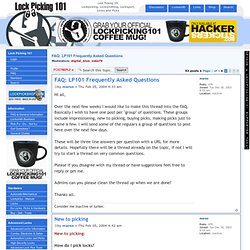 This guide is not official, per se, but is here to help newbies with some of the most common questions. If there is something you don't understand here, feel free to ask on the forums. 1.)Is my _____ lock pickable? Yes. Special tools may be required, or it may take hours or even weeks to pick, but mechanical locks can as a rule be picked given enough time and creativity. Guide to Lock Picking. Author: Ted the Tool September 1, 1991 Contents of the Guide to Lock Picking Distribution August 1991 revision.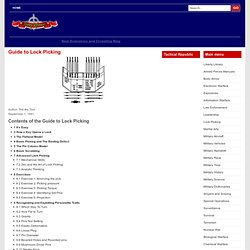 Copyright 1987, 1991 Theodore T. HDLockPicking. I know it's rare to open a mechanical lock by the use of a hard disk and a mouse, but we thought it was possible and we demonstrate it!
Imagination is the true key :-] There are many variations on the computer parts you could use, but it's very easy to open cheap locks with this tool. This article is just for fun and learning purposes, bad guys: I'm sure you will use better methods to break in. Lockpickcard.jpg (Image JPEG, 390x294 pixels) Crochetage. M.I.T.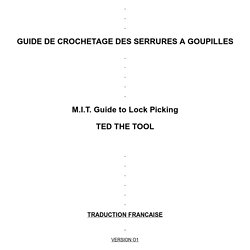 Guide to Lock Picking Par Efrh@ck et Sésame Copyrights 1987-1991 Theodore T. TOOL Tous droits réservés L'autorisation de reproduire ce document est libre de tout droit tant que les reproductions par quelque moyen que ce soit sont distribuées gratuitement et qu'elles comportent, de plus, la mention complète des copyrights. Inside a Combination Lock" You see combination locks every day, but have you ever stopped to think what is inside? In this article, we'll unlock the secrets of a combination lock! Here is the lock we will be exploring: Getting inside a lock is not always easy. If it were easy, it would defeat the purpose of using the lock in the first place! But once you do get inside you find a collection of parts like this:
Crypto. View topic - Homebrew Hall of Fame! Techniques de crochetage ou lockpicking, acceuil. View topic - FAQ: LP101 Frequently Asked Questions. Torque/Tension related questions: What torque wrench should I buy? The glib answer is "The one that will fit the lock". Most likely though, it would be best to start with two wrenches. Select a light and medium double sided tension wrench.
Each end will be a different size.
---