Fun on the web
9c6744fffce5f6095b1885d93ad6ba60.jpg (Image JPEG, 600x412 pixels)
etherpad - EtherPad Open Source Release
I love NUKE créé par rambo - iLoveGenerator.com
Google Hacks
John's Store | John's Phone | The World's Simplest Cell Phone
QR Code Generator - Same Day Shipping. Low Prices, Always.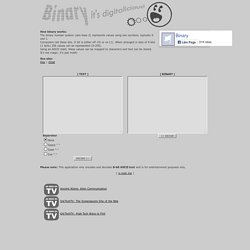 How binary works: The binary number system (aka base 2) represents values using two symbols, typically 0 and 1. Computers call these bits. A bit is either off (0) or on (1).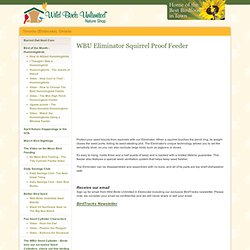 Protect your seed bounty from squirrels with our Eliminator. When a squirrel touches the perch ring, its weight closes the seed ports, foiling its seed-stealing plot. The Eliminator's unique technology allows you to set the sensitivity level, so you can also exclude large birds such as pigeons or doves. It's easy to hang, holds three and a half quarts of seed and is backed with a limited lifetime guarantee. This feeder also features a special seed ventilation system that helps keep seed fresher. The Eliminator can be disassembled and assembled with no tools, and all of its parts are top shelf dishwasher safe.
Wild Birds Unlimited | WBU Eliminator Squirrel Proof Feeder | Toronto (Etobicoke), ON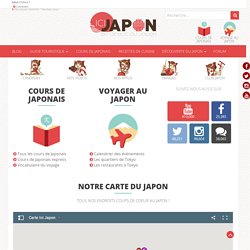 Si vous suivez l'Instagram d'Ici Japon vous avez remarqué que la moitié des photos étaient des photos de nourriture. J'aime manger et j'aime manger au Japon. Le Japon c'est LE pays des bons plats avec la France. On a la diversité, la présentation, la qualité et le goût. Dans une ville comme Tokyo, ville où il y a le plus de restaurants au monde, la concurrence est rude et par conséquent on est quasiment sûr de bien manger partout où l'on va. Un restaurant qui vend de la merde ne restera pas ouvert longtemps.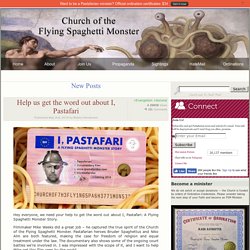 The Holy Colander, blessed of His Noodlyness because He Boiled for Us inside it, has once again confirmed its rightful place among the Holiest of religious head garments! Aaron Williams, an Egg Harbor NJ Pastafarian and Sauced Beyond Marinated, has paid tribute to the just Licencing Laws of New Jersey and honoured Lord Glob by wearing the Holy Colander for a renewal photo. Joining Niko Alm with the desire to etch his devotion to the One True Monster in perpetuity, Aaron insisted that the Colander did not breach the Licencing Law.
DSCHINGHIS KHAN - MOSKAU -
Way too cute. This animal is called a Slow Loris
Personal Marabouts Generator : Générateur de flyers Marabouts Personnalisés
L'effet du climat sur les routes du Québec