Stopping Desert Growth
Burkina Faso : Yacouba Sawadogo, « l'homme qui a arrêté le désert » | Rue89 Planète
Magnus Larsson: Turning dunes into architecture
The Sahara Forest Project combines two proven technologies in a new way to create multiple benefits: producing large amounts of renewable energy, food and water as well as reversing desertification. A major element of the proposal is a seawater-cooled greenhouse that creates a cool growing environment in hot parts of the world and is a net producer of distilled water from seawater. The second technology, Concentrated Solar Power (CSP) involves concentrating the sun's heat to create steam that drives conventional turbines, producing zero carbon electricity twice as efficiently as photovoltaics. The two technologies have very promising synergies that make the economic case even more attractive.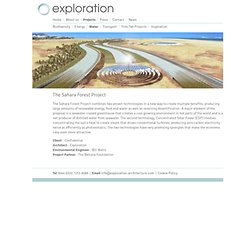 Exploration Architecture, Sustainable architecture, Biomimicry, Sustainable architecture inspired by nature, Factor one hundred saving, Sustainability revolution, Michael Pawlyn, Restorative design, The Eden Project, The Eco-Rainforest, Las Palmas Water T
Incredible Sahara Forest Project to Generate Fresh Water, Solar Power and Crops in African Desert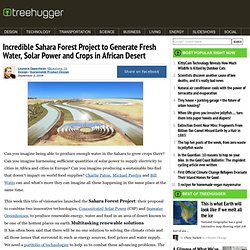 Can you imagine being able to produce enough water in the Sahara to grow crops there? Can you imagine harnessing sufficient quantities of solar power to supply electricity to cities in Africa and cities in Europe? Can you imagine producing a sustainable bio-fuel that doesn't impact on world food supplies? Charlie Paton, Michael Pawlyn and Bill Watts can and what's more they can imagine all these happening in the same place at the same time.
Michael Pawlyn | Profile on TED.com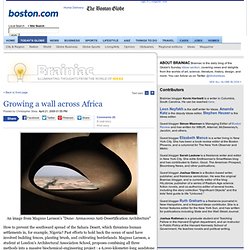 Braniac blogger Kevin Hartnett is a writer in Ann Arbor, Michigan. He can be reached here. Leon Neyfakh is the staff writer for Ideas. Amanda Katz is the deputy Ideas editor. Stephen Heuser is the Ideas editor.
Growing a wall across Africa - Brainiac