Solar Sinter
Get flash to fully experience Pearltrees
Engineering, Construction, and Operations in Space IV American Society of Civil Engineers, pp. 1220-1229, 1994 Carlton C. Allen , John C.
Solar Sinter 2011
Proff sez, " Markus Kayser built a 3D printer that works with solar power to heat up sand and form objects like a regular 3D printer, by taking the energy and the raw material directly out of the desert. He also built a laser cutter working with solar energy and a lens."
Markus Kayser , an MA student at the Royal College of Art, has built a 3D printing device that concentrates the Sun's rays through a glass ball lens to such an intensity that it forms a beam that can heat silica sand to melting point.
" Solar Sinter " is a 3d printer by Markus Kayser that lives on sand and sun. It's based on selective laser sintering (SLS), using Saharan sand as the medium and sunlight from a Fresnel lens in place of laser.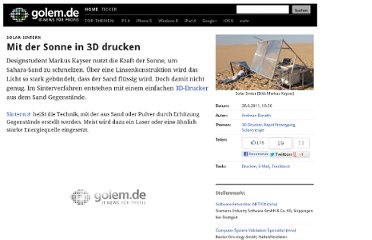 Sintern heißt die Technik, mit der aus Sand oder Pulver durch Erhitzung Gegenstände erstellt werden. Meist wird dazu ein Laser oder eine ähnlich starke Energiequelle eingesetzt. Markus Kayser setzt auf die Kraft der Sonne.
At the Royal College of Art Degree Show this year, one of the most talked about pieces of work was Markus Kayser's Solar Sinter project. His idea of 'desert manufacturing', uses the sun and sand as a raw energy source and material, combined with a 3D printing process to create glass objects. This fascinating experiment highlights the ways we could, in the future, use natural resources more effectively by uniting them with advanced production technology.
Amongst the wonderful collection of work currently on show at the Royal College of Art, in the corner on the first floor sits an installation/object by Markus Kayser called Solar Sinter. An MA Design Products student project, Solar Sinter is probably one of the most inspiring projects this year, aiming to raise questions about the future of manufacturing and triggers dreams of the full utilisation of the production potential of the world's most efficient energy resource - the sun.
Show RCA 2011: German designer Markus Kayser has built a 3D-printing machine that uses sunlight and sand to make glass objects in the desert.