RP research
Imagine being able to "print" an entire house.
Printing off the paper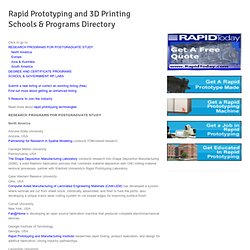 Rapid Prototyping and 3D Printing Schools & Programs Directory
Click to go to:RESEARCH PROGRAMS FOR POSTGRADUATE STUDY North America Europe Asia & Australia South AmericaDEGREE AND CERTIFICATE PROGRAMSSCHOOL & GOVERNMENT RP LABS Submit a new listing or correct an existing listing (free) Find out more about getting an enhanced listing
Multi-Material 3D Printing
Project Members: Evan Malone, Dan Cohen A Technology for Inventing Technologies...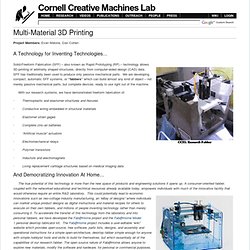 Mikro Printer: Wiener Wissenschaftler entwickeln kleinen 3D-Drucker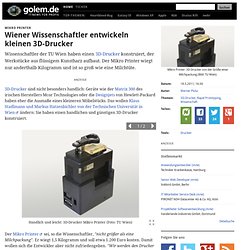 3D-Drucker sind nicht besonders handlich: Geräte wie der Matrix 300 des irischen Herstellers Mcor Technologies oder die Designjets von Hewlett-Packard haben eher die Ausmaße eines kleineren Möbelstücks. Das wollen Klaus Stadlmann und Markus Hatzenbichler von der Technischen Universität in Wien ändern: Sie haben einen handlichen und günstigen 3D-Drucker konstruiert.
Forscher der Universität im südenglischen Southampton um Andy Keane und Jim Scanlan haben ein unbemanntes Flugzeug (Unmanned Aerial Vehicle, UAV) im Rapid-Prototyping-Verfahren hergestellt.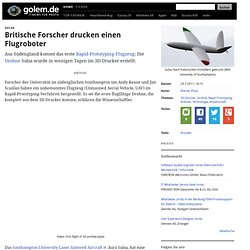 Sulsa: Britische Forscher drucken einen Flugroboter