Home Use
eMAKER Huxley 3D printer kits -- IndieGoGo. We are a relatively new company specialising in the development of open source 3D printers.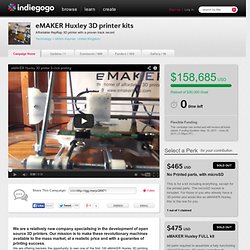 Our mission is to make these revolutionary machines available to the mass market, at a realistic price and with a guarantee of printing success. We are offering backers the opportunity to own one of the first 100 eMAKER Huxley 3D printing machines, as part of our beta program, for a very competitive price in return for feedback on any aspect of the machine, from the packaging, to the assembly, and ease of use. The eMAKER Huxley The eMAKER Huxley 3D printer is a Replicating Rapid prototyping machine, or RepRap for short. It is derived from the open source RepRap project which was started at Bath University, UK, about 6 years ago.
Thing-O-Matic 3D Printer Kit - MakerBot Industries. 3D Printer. Blog | Ultimaker | the fast, easy to build, affordable 3D printer – 3D printing for everyone! Bits From Bytes | Bits From Bytes.
---