Sewing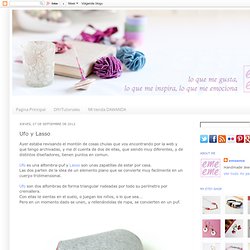 emeeme: Ufo y Lasso
Ayer estaba revisando el montón de cosas chulas que voy encontrando por la web y que tengo archivadas, y me dí cuenta de dos de ellas, que siendo muy diferentes, y de distintos diseñadores, tienen puntos en comun.
I love making fabric flowers!
How To: Free Fabric Flower and Headband Tutorial from Fabric Envy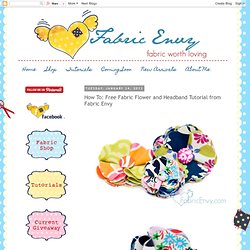 How to make crochet heart | Crafts Tutorials Blog - Ideas For Crafts
January 2, 2013 Accesories , DIY and Crafts An itty bitty heart, perfect for Valentine cards or adding to your crochet projects.
If you are interested in learning how to crochet a flower, you have stopped by the right place! They are truly one of my favorite projects to work on because they crochet up very quick and look cute as an embellishment to almost anything! I use these flowers on newborn hats, headbands and ear warmers, blankets, scarves and handbags.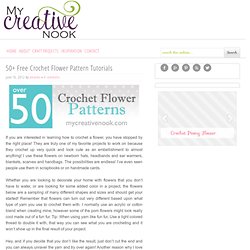 50+ Free Crochet Flower Pattern Tutorials - My Creative Nook
How to Make Cute Kitty Paw Mittens
Tote Bag Tutorial | Craft Buds
This is one of the very first tutorials I put together!
How to Weave on a Cardboard Loom
June 25th, 2008 Email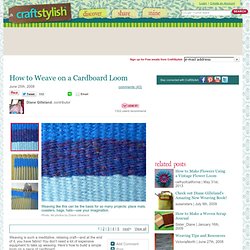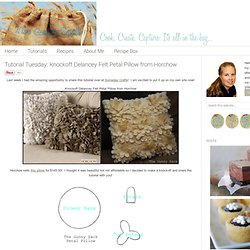 Last week I had the amazing opportunity to share this tutorial over at Someday Crafts!
Tutorial Tuesday: Knockoff Delancey Felt Petal Pillow from Horchow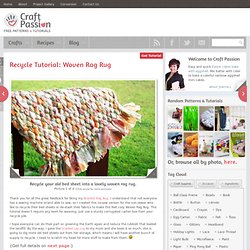 Thank you for all the great feedback for liking my Braided Rag Rug. I understand that not everyone has a sewing machine or/and able to sew, so I created this no-sew version for the non-sewer who like to recycle their bed sheets or de-stash their fabrics to make this feet cozy Woven Rag Rug.
Very Pretty Japanese Handbag
This bag handle and pattern came to us with only Japanese instructions. With a little help I was able to get it translated and share it all with you. Its pretty shape and cheery colors make it the perfect thing to sew in anticipation of Spring! Materials One Inazuma Handbag Handle BK-1052 (pattern templates included)1/2-yard of Kiyohara Yellow Canvas1/2-yard of Little Folks Voile from Anna Maria Horner1 spool of cotton thread in color 1600A water soluble fabric marker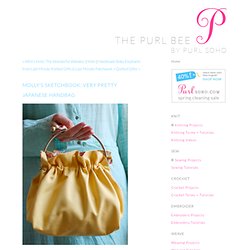 tetris.jpg (JPEG Image, 500 × 358 pixels)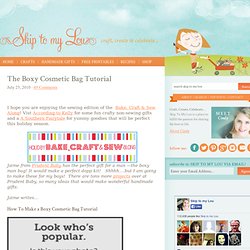 Jaime from Prudent Baby has the perfect gift for a man —the boxy man bag!
DIY BRIGHTLY LINED LACE MINI SKIRT
i have a tutorial that is forty thrillionty times easier and better than my previous (ahem, first ever...give me some grace!)
Gosh… I am supposed to sew some thing for the Earth Month this April, but I can't wait to sew these sock monkeys.
I first saw a blanket like this at a baby shower for a friend's first baby boy. Our mutual friend, Joyce, gifted it and I was so amazed she had made it! I hadn't seen anything like it and thought it had such a beautiful vintage feel.
It was a good year in the online crafting world.
This stitch is typically used for leaf patterns. It throws out a padded effect on the motif. The stitch looks a bit difficult, but has no complications when you start to stitch.
The Super Easy Paper Bag Waist Skirt Tutorial
Owl Hot Bottle with Flax Seeds
Knock it Off! The Orimono Pillow » mad mim
You Go Girl!: Crochet Like Crazy...
How to Applique: Spring Time Tea Towel DIY
DIY: Owl Brooch
DIY: felt flower brooch / Sheepy Me
30+ Free Pincushion Patterns
A Little Pot Holder Love
GALLERY: Patch it up
Stitch Along Inspiration
Anthropologie Inspired Asterid Coin Purse
Sew a Gorgeous Anthropologie Inspired Embroidered Cardigan