Decorating
Hi guys! Dina here from Honey & Fitz back with another tutorial. This time I'm showing you how to make some string art for your little one's room! Rather than deal with hammers and cutting wood, I decided to do this project using cork tiles. Not only are they easy to find and inexpensive, they're also very light weight so you don't have to worry about them falling off the wall and hurting anyone.
DIY String Art | Hellobee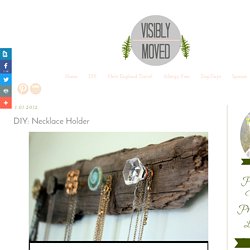 DIY: Necklace Holder
I found this genius idea to get my necklaces organized from and I thought I'd give it a go. 1. You will need a flat board to attach your knobs unto.