National News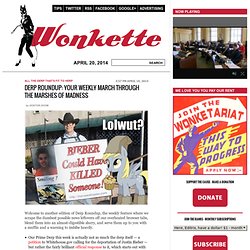 Wonkette — The D.C. Gossip
Hey, kids, it's January (really, we checked the Google), so you know what that means, right? Time for Republicans to make their annual attempt to pass a "No Taxpayer Funding For Abortion" bill. But wait, you are saying to yourself, isn't taxpayer funding for abortion already prohibited? Yes, you are correct, and it has been that way since 1976.
The Fix - Chris Cillizza on politics.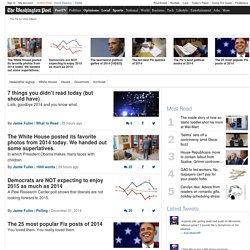 The Fix by Chris Cillizza It was a death of 1,000 cuts.
Stephen Crowley/The New York Times This week, a White House-appointed panel recommended that President Obama rein in the National Security Agency and impose more oversight. Also, a United States District Court judge ruled Monday that an N.S.A. program that systematically collects records of American phone calls is probably unconstitutional, but he stayed his order while the case is appealed.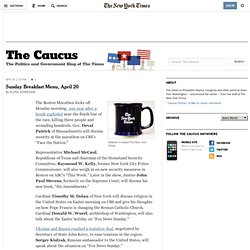 Politics and Government - 2012 Presidential Watch - The Caucus Blog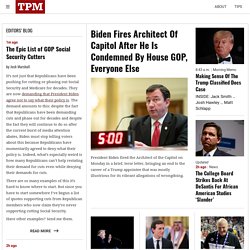 Talking Points Memo | Breaking News and Analysis
Looks like we're on track for one of the New Jersey senators investigating the bridge scandal to himself be a fact witness. Awesome ... TPM's Sahil Kapur reviews the forthcoming documentary on Mitt Romney that's getting so much buzz. TPMCafe: MTV Prevents Teen Pregnancy By Shaming Single Moms
Slate Magazine
Real Clear Politics Friday Unwinding Obamacare - James Capretta & Yuval Levin, Weekly StandardHate Obama, Love Obamacare - Steven Brill, TimeIn Year Six, Does Obama Finally Own Economy? - Byron York, ExaminerAmerica Is Becoming More Liberal - Steve Rosenthal, Washington PostDemocrats' Midterm Blues - Jonah Goldberg, National ReviewGOP's Risky Rebuff to Long-Term Unemployed - Michael Hirsh, Natl JrnlGillespie Is the Right Kind of Candidate for Va. - Ben Domenech, FederalistChris Christie: A Bully's Bully - Katha Pollitt, The NationBridgegate-Obsessed Media Needs to Move On - Ruben Navarrette, CNNA Milder Christie? Don't Expect It to Last - Scott Conroy, RealClearPoliticsObama Is Disrespecting the Constitution - James Antle, National InterestA Scandalous Lack of Obama Scandals - Paul Waldman, American ProspectHow in Good Conscience? - Charles Krauthammer, Washington PostLessons of Benghazi - Eugene Robinson, Indianapolis StarMrs.
RealClearPolitics - Opinion, News, Analysis, Videos and Polls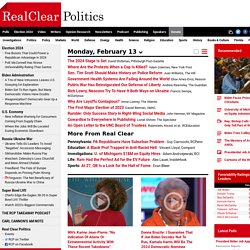 Hotline On Call
Election Forecasts - FiveThirtyEight Blog
Alison Lundergan Grimes, the Kentucky secretary of state and a Democrat, announced on Monday that she will challenge Senator Mitch McConnell, a Republican, in 2014. Mr. McConnell, the Senate minority leader, is likely to win re-election. Kentucky is a solidly Republican state, and President Obama received less than 40 percent of the vote there in 2012.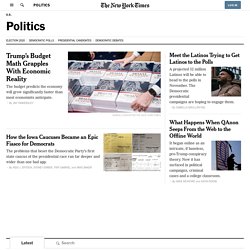 Feds form grand jury to probe Chris Christie's role in Bridgegate... Afghans line up for blocks to vote for new leader... $1.5 MILLION Hotel Bill for Obama's One-Day Visit to Brussels... Holder defends using DOJ airplane for 27 personal trips...
DRUDGE REPORT 2011®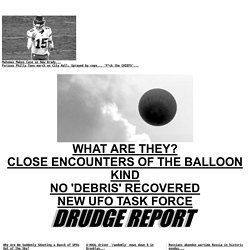 Ramune Golysenkiene via Getty Images I've been tweezing, shaving, moisturizing, defrizzing, flat-ironing, bikini-waxing, gym-joining (notice I said gym-joining, not gym-going?) exfoliating and manicuring since 8th grade, all while sleeping on a silk pillowcase to reduce wrinkles. I'm ready to grow a beard and just RELAX. If you have a "bring your own device" policy in place, employees need be informed that your company is monitoring data on their devices.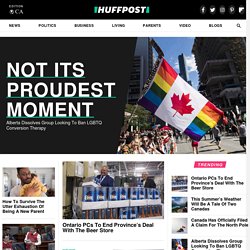 Breaking News and Opinion on The Huffington Post
From our report on today's Pulitzer Prize announcement: Edward Snowden didn't win a Pulitzer on Monday, but he might as well have. In a move certain to be interpreted as a vindication of the former government contractor's efforts, the Pulitzer Prize Board on Monday awarded The Guardian US and The Washington Post its coveted Public Service award for reporting on the National Security Agency's domestic surveillance practices.
Ben Smith: Political News and Analysis