Brownies
Chocolate Chip Cookie Dough Brownies *If you are visiting this post for the first time, you may wish to visit my " Chocolate Chip Cookie Dough Brownies Take Two " post- a more recent post where I share (what I think is) a better version of these brownies! These are good too- but I took the comments suggested in this post and created a new recipe based on feedback. Okay, Cookie Dough Lovers. I gave you those Chocolate Chip Cookie Dough Truffles a few weeks ago, and now I'm giving you Chocolate Chip Cookie Dough Brownies !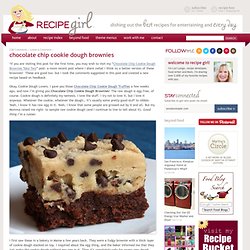 nutella lava brownies
For the brownie batter: 4 large eggs 1¼ cups baking cocoa 1 teaspoon salt 1 teaspoon baking powder 1 Tablespoon instant espresso powder, mixed with 2 teaspoons water 2 teaspoons vanilla extract 2¼ cups sugar 1 cup unsalted butter, melted 1½ cups all-purpose flour For the cheesecake filling: 1 (8-oz.) package cream cheese, softened 3 Tablespoons sugar 1 large egg yolk Preheat the oven to 350ºF. In a large bowl, whisk together the eggs, baking cocoa, salt, baking powder, espresso mixed with water, and vanilla until well combined.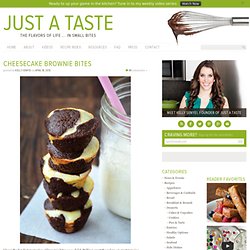 Cheesecake Brownie Bites
Cookie Cutter brownies
Lemony Lemon Brownies