Technology Assisted Dispute Resolution
As our communication tools and social practices have grown more networked, so has our need to manage and resolve conflicts in this new space.
Online Dispute Resolution (ODR) is "the application of Alternative Dispute Resolution (ADR) practices and theories with networked information technology to manage conflict. Comprised primarily of online mediation, negotiation, or arbitration systems ODR also includes information management tools for informal conflict management by individuals and organizations." (Wiley and Sons Internet Encyclopedia 2004) This pearltree provides a quick look at some of the key aspects of the ODR field as of 2011.
History of ODR - a VoiceThread. Editor - Bill Warters @bwarters RSS Feed.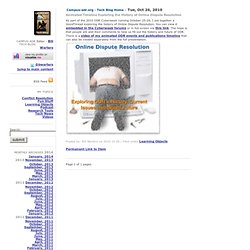 Workplace & Labor disputes. ODR Practitioner Tools and Tips. ODR Providers. ODR Standards & Guidelines. Mapping Conflicts & Crisis. Public Sector ODR. Family Conflicts.
---
mgramatikov Dec 26 2011

Great stuff! Thank you for the effort to organize the links.

Martin Gramatikov
---