Mobile & Libraries
LibraryThing Delivers Mobile Access to Library Catalogs. This article appears in the Match 2010 issue of Smart Libraries Newsletter, available for purchase here.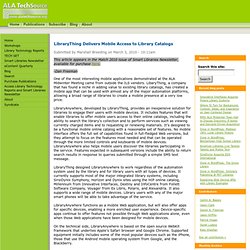 -Dan Freeman One of the most interesting mobile applications demonstrated at the ALA Midwinter Meeting came from outside the ILS vendors. LibaryThing, a company that has found a niche in adding value to existing library catalogs, has created a mobile app that can be used with almost any of the major automation platforms, allowing a broad range of libraries to create a mobile presence at a very low price. Library, mobile: beta. Please enter your search query below, or use the directory of units in the section navigation area.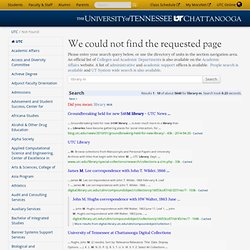 An official list of Colleges and Academic Departments is also available on the Academic Affairs website. A list of administrative and academic support offices is available. People search is available and UT System wide search is also available. Did you mean: library mn Groundbreaking held for new $48M library - UTC News ... C mobileOK Checker. Planning for a Mobile Website. Mobile, mobile, mobile.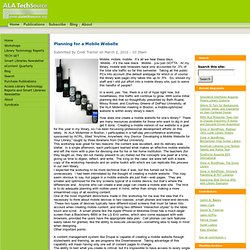 It's all we hear these days. Mobile…it's the new black. Mobile…you just GOTTA. At my library, mobile web browsers have only accounted for .3% of the total site traffic so far this semester. Mobile Site Generator · Hidden Peanuts. I'm really excited to launch a side project this morning that I've been working on for a while: Mobile Site Generator After filling out a form with page titles and few other bits of info, the generator spits out a fully functional mobile site (tested on iPhones, iTouches, and Android devices) ready for uploading to your server as an HTML file!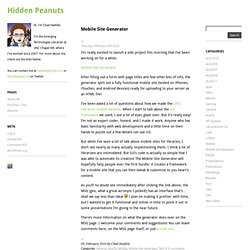 I've been asked a lot of questions about how we made the UNC Libraries' mobile website. Mobile Web Design – Working Code, Tips, Best Practices « DigInit: digital initiatives. Taking a web site to the small screen comes with a host of considerations: device width, available bandwidth, touch versus click interfaces, browsers with limited functionality, etc.
At the same time, the simplicity of these mobile browsing environments lowers the barrier to entry for developers. Some basic HTML and CSS is all that is required to get started. In my research, I have learned a few things and decided to put the learning into action by creating a mobile web template available for anyone to download, remix, and reuse.
---