Homeopathy
Attn: Joe De Livera - Infant Acid Reflux and Constipation - ABC Homeopathy Forum
Can you go through each symptom he currently has, describing each in detail. I have an intake form I post for cases, it may call for a lot of information that has not yet been gathered. It is important to describe all his problems in as much detail as you are able. One word answers and short sentences are not particularly helpful.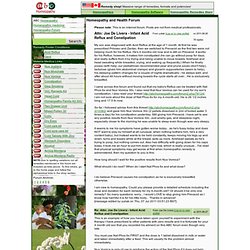 Infant Reflux in a 6 wk old - ABC Homeopathy Forum
I have lived this with my baby and thank goodness found a few good remedies that work. Here are some ideas see which one is most applicable: Borax: thrush, both in mouth and genitals; diarrhoea; breasts are painful during nursing, aching after nursing, pain in breast infant is not nursing on, aching in breasts when empty after nursing; baby dislikes downward motion; baby cries in pain when nursing or refuse breast.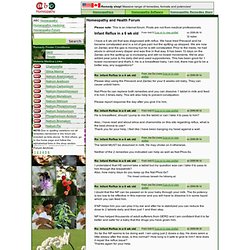 Homeopathy for Health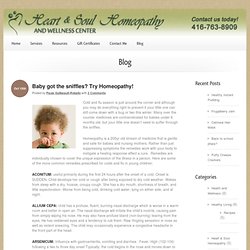 Cold and flu season is just around the corner and although you may do everything right to prevent it your little one can still come down with a bug or two this winter. Many over the counter medicines are contraindicated for babies under 6 months old, but your little one doesn't need to suffer through the sniffles. Homeopathy is a 200yr old stream of medicine that is gentle and safe for babies and nursing mothers. Rather than just suppressing symptoms the remedies work with your body to instigate a healing response affect a cure. Remedies are individually chosen to cover the unique expression of the illness in a person. Here are some of the more common remedies prescribed for colds and flu in young children:
Baby got the sniffles? Try Homeopathy!
Homeopathic prevention and treatment for whooping cough - 7 common remedies that work
(NaturalNews) Whooping cough is a bacterial infection of the upper respiratory tract, primarily effecting both vaccinated and unvaccinated children. It's highly contagious, and adult whooping cough is not uncommon. It starts as a common cold and develops into a spasmodic, persistent, suffocative cough accompanied by a sore throat, fever, mucus secretion and vomiting. Coughing continues until the lungs are emptied of air and the sudden, hard intake of breath causes the characteristic whooping sound.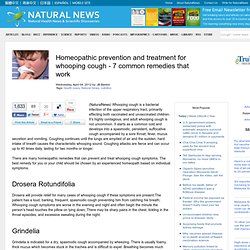 National Center for Homeopathy |
Homeopathy Action Trust | UK Homeopathy goes from strength to strength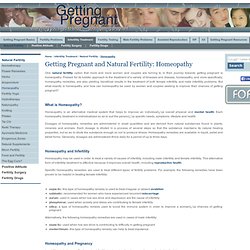 Getting Pregnant and Natural Fertility: Homeopathy
One natural fertility option that more and more women and couples are turning to in their journey towards getting pregnant is homeopathy. Praised for its holistic approach to the treatment of a variety of illnesses and disease, homeopathy, and more specifically, homeopathy remedies, are also yielding beneficial results in the treatment of both female infertility and male infertility problems. But what exactly is homeopathy and how can homeopathy be used by women and couples seeking to improve their chances of getting pregnant? What is Homeopathy? Homeopathy is an alternative medical system that helps to improve an individual�s overall physical and mental health . Each homeopathy treatment is individualized so as to suit the person�s specific needs, symptoms, lifestyle and health.
Homoeopathic Online Education, David Little
Ainsworths
Homeopathy is a system of medicine which involves treating the individual with highly diluted substances, given mainly in tablet form, with the aim of triggering the body's natural system of healing. Based on their specific symptoms, a homeopath will match the most appropriate medicine to each patient. Like with like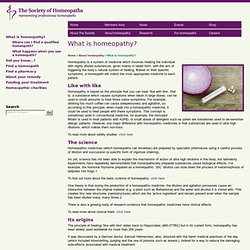 What is homeopathy? | The Society of Homeopaths
Samuel Hahnemann, the founder of homeopathy Homeopathy i / ˌ h oʊ m i ˈ ɒ p ə θ i / (also spelled homoeopathy or homœopathy ; from the Greek hómoios- ὅμοιος - "like-" + páthos πάθος "suffering") is a system of alternative medicine originated in 1796 by Samuel Hahnemann , based on his doctrine of similia similibus curentur ("like cures like"), according to which a substance that causes the symptoms of a disease in healthy people will cure similar symptoms in sick people. [ 1 ] Scientific research has found homeopathic remedies ineffective and their postulated mechanisms of action implausible. [ 2 ] [ 3 ] [ 4 ] [ 5 ] The scientific community regards homeopathy as a sham; [ 6 ] the American Medical Association considers homeopathy to be quackery , [ 7 ] [ 8 ] and homeopathic remedies have been criticized as unethical. [ 9 ]
Homeopathy