Document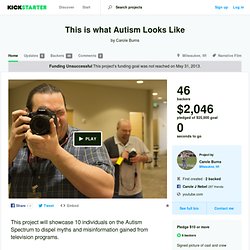 This is what Autism Looks Like by Carole Burns
This project will focus on the different faces that are infront of someone on the Autism spectrum. All too often individuals and their family or support members hear "I saw that person on xxx (insert name of current popular TV show with an individual on the spectrum featured) - is your son like that?" or "What is your son savant at?" or even worse "What are you going to do with him when you are gone?". This documentary will take place in the homes of 10 individuals of varying age, race and financial background and show that these 10 individuals, although they have the same diagnosis, have different abilities and strengths, much like that of any other person not diagnosed with ASD. We will be using funds to help cover the cost of equipment and talent required to produce a professional level documentary.
Walgreen's :: Oak Creek, WI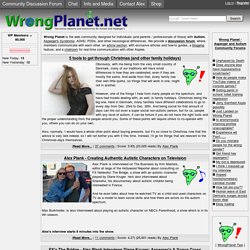 Douglas Baker is a wealth manager and parent of two adult children. His son Scott is 22 and is affected by Autism. We live in a world that is fast-paced, high-tech, image driven and unforgiving, fueled by sensationalized media and reality television shows portraying what is now considered by many to be "normal". Add to all of this a special needs newborn, child or adult in a family, and reality becomes a sub-world driven by a lifetime of challenges that require incredible commitment, compassion and persistence, as well as a lifespan of specialized planning and services.
ADA National Network by DBTAC: Your Resource on the Anniversary