Alcohol
Want your beer label design professionally printed and mailed right to your door? Special Order 100 Labels for $99 If you don't want your 100% unique labels printed on plain paper on your printer, our professional printers can produce any kind of Labeley-designed stickers according to your chosen label characteristics (quantity, label stock, colors). We pride ourselves in quality service and quick delivery! If after receiving your order you are not happy with the product, feel free to send the order back and we'll return your money immediately.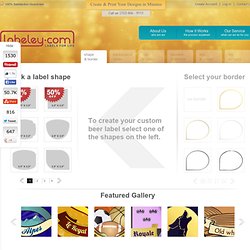 Make custom beer labels with labeley.com - StumbleUpon
Flaming Dr. Pepper
The Flaming Dr. Pepper is something that will have you nice after about three of them or possibly falling on your ass. This is how you make it fill 3/4 of a shot glass with Amaretto and then top the shot glass off with 151 rum now fill a pint glass with beer half way. Light the shot of fire and then drop it in the beer and chug.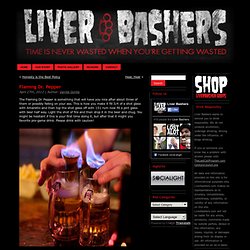 Pairing Beer With Food&|&Men's Journal
Wait for it.... - StumbleUpon
- StumbleUpon
Drinking Games | What To Drink
exclusive, drunkt, christmas drink recipe, cocktail recipe, shooters, shots, rum, vodka, beer, alcohol, baileys, warm drinks,
Tagged as: alcohol, baileys, Beer, christmas drink recipe, cocktail recipe, drunkt, exclusive, rum, shooters, shots, vodka, warm drinks Warning: Missing argument 1 for BaseDD::BaseDD(), called in /home/content/83/8164383/html/wp-content/plugins/digg-digg/include/dd-manual.php on line 123 and defined in /home/content/83/8164383/html/wp-content/plugins/digg-digg/include/dd-class.php on line 97 Warning: Missing argument 2 for BaseDD::BaseDD(), called in /home/content/83/8164383/html/wp-content/plugins/digg-digg/include/dd-manual.php on line 123 and defined in /home/content/83/8164383/html/wp-content/plugins/digg-digg/include/dd-class.php on line 97 Warning: Missing argument 3 for BaseDD::BaseDD(), called in /home/content/83/8164383/html/wp-content/plugins/digg-digg/include/dd-manual.php on line 123 and defined in /home/content/83/8164383/html/wp-content/plugins/digg-digg/include/dd-class.php on line 97
The Ultimate Movie Drinking Game List! | MovieBoozer