PLM
Solid Edge and friends* at PLM Connection Day 2 (*Velocity) Solid Edge and friends* at PLM Connection Day 2 (*Velocity) Day two of PLM Connection (click here for day 1) got started with Bill McClure and Karsten Newbury talking with customers in kind of a round table discussion.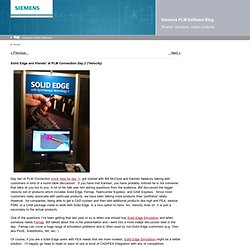 If you have met Karsten, you have probably noticed he is not someone that talks at you but to you. A lot of his talk was him asking questions from the audience. Bill discussed the bigger Velocity set of products which includes Solid Edge, Femap, Teamcenter Express, and CAM Express. Hsxj5lij Shared by burhop. h3mo7bgj Shared by burhop. NX at PLM Connections – Day 1. NX at PLM Connections – Day 1 The kickoff to Siemens PLM Connection got off to a great start on Monday morning.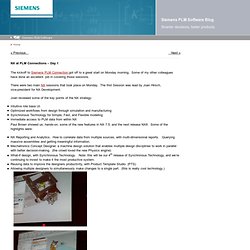 Some of my other colleagues have done an excellent job in covering those sessions. There were two main NX sessions that took place on Monday. The first Session was lead by Joan Hirsch, vice-president for NX Development. Joan reviewed some of the key points of the NX strategy: Tinyurl.co - Tinyurl and Url Redirection. Solid Edge Insight. Microsoft® SharePoint® Platform for Business Productivity Solid Edge Insight™ is based on Microsoft SharePoint, the leading business productivity solution that brings information management and access, collaboration and people-driven processes into a familiar environment where people do their work every day.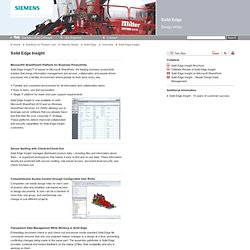 Familiar and consistent environment for all information and collaboration tasksEasy to learn, use and personalizeSingle IT platform for lower end-user support requirements Solid Edge Insight is now available on both Microsoft SharePoint 2010 and on Windows SharePoint Services 3.0 (WSS) allowing you to leverage server software that you already have and that best fits your corporate IT strategy. Solid Edge ST at PLM Connection – Day 1. Solid Edge ST at PLM Connection – Day 1 In terms of content, the first day of PLM Connection has gone as you might expect.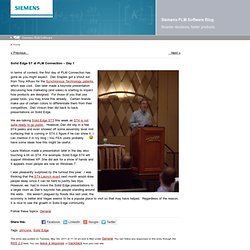 Dan Staples got a shout out from Tony Affuso for the Synchronous Technology patents, which was cool. h2pe8xij Shared by burhop. Gzfttijij Shared by burhop. h04o4lvj Shared by burhop. Stavanja. Solid Edge Simulation Rocks on at PLM Connection. Solid Edge Simulation Rocks on at PLM Connection For those of you that have been wondering, Ronnie Connerly is now in the process of replacing me as the Solid Edge Simulation product manager.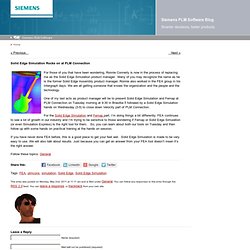 Many of you may recognize the name as he is the former Solid Edge Assembly product manager. Storms in Alabama. Storms in Alabama I'm heading out of Huntsville, Al on my way to PLM Connection today.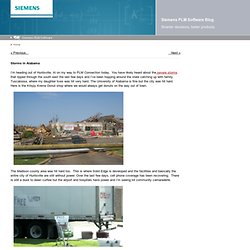 You have likely heard about the severe storms that ripped through the south east the last few days and I've been hopping around the state catching up with family. Tuscaloosa, where my daughter lives was hit very hard. The University of Alabama is fine but the city was hit hard. Here is the Krispy Kreme Donut shop where we would always get donuts on the way out of town. Gznozcxj Shared by burhop. Nice evening in Vegas! #plmconx. Bitly | Basic | a simple URL shortener.
Beetle carburetor. Post COFES, Dropbox and PLM Made Simple? As you know, I spent end of my last week, including the weekend at COFES (The Congress of the Future of Engineering Software).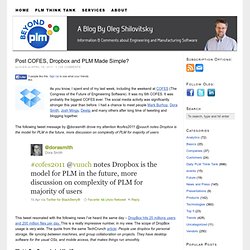 It was my 6th COFES. It was probably the biggest COFES ever. The social media activity was significantly stronger this year than before. I had a chance to meet people Mark Burhop, Dora Smith, Josh Mings, Deelip and many others after long time of tweeting and blogging together. The following tweet message by @dorasmith drove my attention #cofes2011 @vuuch notes Dropbox is the model for PLM in the future, more discussion on complexity of PLM for majority of users. Mobile. Inforbix - Product Data Applications. Siemens PLM Connection Americas User Conference 2011. Another Reason to Attend Simulation Connection at the Conference. Ms.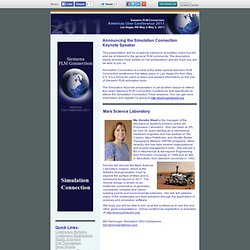 Kendra Short is the manager of the Mechanical Systems Division at the Jet Propulsion Laboratory. She has been at JPL for over 20 years starting as a mechanical hardware engineer and has worked on the Cassini, Mars Pathfinder, and Shuttle Radar Topography Mission (SRTM) programs. More recently she has held several organizational and project management roles. She earned a BS in Mechanical & Aerospace Engineering from Princeton University in 1989 and an MS in Aero/Astro from Stanford University in 1992. Preliminary-Agenda-2. PLM World Event Site » Schedule & Agenda.
The PLM Economy. Stay Connected | Rio All Suite Hotel & Casino. Daimler PLM Announcement (CIMdata Highlight) Siemens to supply PLM software to Russian space center. October 25, 2010 - Siemens PLM Software and the Khrunichev State Research and Production Space Center (Khrunichev) announced one of Russia's largest PLM implementations, to help Khrunichev boost the production of new and modified products and to save product development and production planning costs.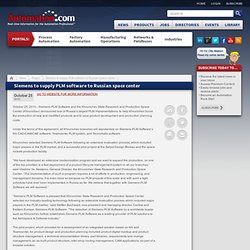 Under the terms of this agreement, all Khrunichev branches will standardize on Siemens PLM Software's NX CAD/CAM/CAE software, Teamcenter PLM system, and Tecnomatix software. Khrunichev selected Siemens PLM Software following an extensive evaluation process, which included major players in the PLM market, and a successful pilot project at the Salyut Design Bureau and the space rockets production facility. "We have developed an extensive modernization program and we want to expand the production, so one of the top priorities is a fast deployment of a product lifecycle management system in all our branches," said Vladimir Ye.
Designing the Product for the Factory and Vice Versa. Designing the Product for the Factory and Vice Versa In going through my notes from last week's PLM Connection Europe event, there were a few more highlights I wanted to share.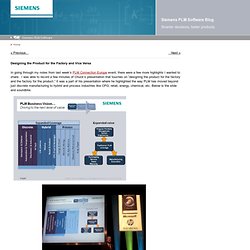 I was able to record a few minutes of Chuck's presentation that touches on "designing the product for the factory and the factory for the product." It was a part of his presentation where he highlighted the way PLM has moved beyond just discrete manufacturing to hybrid and process industries like CPG, retail, energy, chemical, etc. Below is the slide and soundbite. .@burhop this pic's 4 u! CFD at mach 1 :-) #plmconx. g4dnsfj - Uploaded by olegshilovitsky. Solid Edge Simulation PLM Connection 2010. How To Choose PLM? (Visual guide) I decided to make an unusual post today. Because of holiday (Labor Day in USA), I spent most of the day working on emails, RSS, twits and blog comments. iPad is a primary tool in such a type of work.
I had a chance to read blog article by Jos Voskuil - Which PLM (to choose) ? Inspired by Jos' arguments I created a simplified visual guide for people who want to think about what PLM to choose during the long weekend. PLM Connection Americas Summary. The level of social media keeps increasing each year at the PLM Connection events. With so much content coming out of the event in Dallas, I wanted to share a summary post with key links for you to share with colleagues who couldn't attend.
The pic above was from the shirt I was wearing at the event. Adopting and Managing Teamcenter 8 at Wagstaff. Cyon Research's 2009 Q4 Survey of Users of Software for Design a.
Start. PLM World: The Voice of Siemens PLM Software Users Worldwide | P. Opryland Hotel Under Water May 2010. Social Computing For Product Development. Over the last few years, I think most would agree that leading product development organizations have gotten much savvier about designers collaborating with internal stakeholders – such as manufacturing, sales, and marketing – to harness contributions and feedback from more business perspectives, get the product right the first time, and ultimately better transform technical inventions into market-relevant innovations.
What's really interesting is that, over this same period, the social Web – which Forrester calls Social Computing and includes peer-to-peer activities like social networking sites, blogging, user review sites, wikis, podcasts, and other user-generated content – has steadily grown in popularity among consumers as well as expanded its presence among manufacturing enterprises. PLM World Event Site. Untitled. PLM World Event Site » Hotel Information. Untitled. PLM Connection Americas Change of Venue - Siemens PLM Software B. Siemens PLM Moves Conference to Dallas. PLM World Event Site. PLM Perspective: A Product Lifecycle Web Tour and Critique of PL. Survey Results, PLM Connection, and Blogging « Siemens PLM Softw. Tap the Knowledge of Long-Time PLM Connection Attendees « Siemen.
The #plmconx app for the iPhone. Still not ready for #plmconx but at least I have a nice place to. Siemens PLM Software Blog. Cowboy Blogging in Dallas. Cool car. I think this is tonight's blog post. #plmconx - burhop. Untitled. Distracted by a Beautiful Car. Start of #plmconx. Share photos on Twitter. Share photos on Twitter. Share photos on Twitter. Share photos on Twitter. Share photos on Twitter. Share photos on Twitter. Free 2D: PLM−Product Lifecycle Management. Crowd in the demo area #plmconx. Solid Edge Kickoff at PLM Connection. PLM World Blog » Day 1: Starting Off The Siemens PLM Connection. Assembly Layout using virtual components - Part1. Rocking with Solid Edge Simulation at PLM Connection « Siemens P.
Share photos on Twitter. Here is me working at PLM World. #plmconx. Tecnomatix Jack: Ergonomics overview and future #plmconx on Twit. Karsten Newbury on Velocity Series at PLM Connection « Siemens P. 5 Things You want to Know about Siemens, Solid Edge and NX >> So. Siemens PLM Connection - Americas Users Conference 2010 Results.
---