CAD Blogs
Oh, God, this is daunting. How does one go about writing about someone like Josh Mings? He writes one of the most popular CAD blogs, SolidSmack.com , he's half of the incredible Engineer vs. Designer , and he's a Web Marketing Manager at Luxion .
Jeff's Tool Shed
Blogs
Engineering for Change (E4C) -- a joint initiative founded by ASME, IEEE, and Engineers Without Borders-USA -- reached a milestone this past May when its 10,000th member registered for the social network. The E4C network began in 2011 and at the time of this writing had 11215 active members (per E4C's home page). By registering on the website (registration is free), engineers, scientists, and other technology-related professionals can discuss and assist with projects affecting the developing world. With the recent approval by ASME's Board of Governors to support the 2012 operations of E4C with a $250,000 contribution -- matching IEEE's $250,000 funding for 2012 -- E4C should be around long enough to connect even more able-minded Samaritans.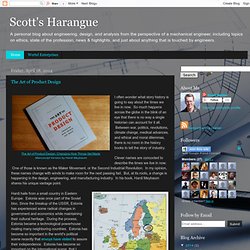 Scott's Harangue
History-based, parametric, history-free, direct, explicit, synchronous, dynamic, instant... Over the last few years CAD companies have introduced many new terms as they have announced new product capabilities. Most significant are the capabilities related to direct geometry interaction and manipulation. The industry is becoming more familiar with the concept of history-free modeling (direct modeling, direct editing).
2009 - The Year of … Confusion?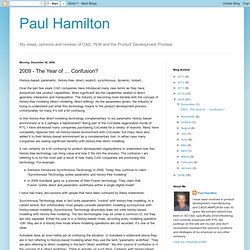 Deelip.com
Posted by Deelip Menezes Others Saturday, December 19th, 2009 A PTC Partner newsletter alerted me to the news that PTC has formed separate business units for its product lines. Previously PTC has just two primary product lines – Pro/ENGINEER and Windchill. Over the years, due to acquisitions and internal growth, its product lines have dramatically increased. Next year they will have a total of eight major product lines: Pro/ENGINEERWindchillCoCreateArbortextMathcadProductViewSharePoint/SPDInsight Analytics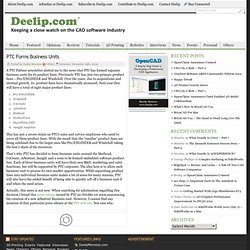 PTC Forms Business Units « Deelip.com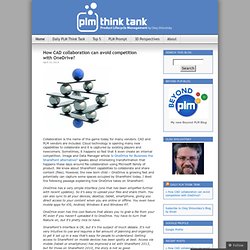 Product Lifecycle Management is not a software. It is business strategy and approach. One of my blog readers mentioned that in the discussion few days ago.
Daily PLM Think Tank Blog
Develop3D - Technology for the Product Lifecycle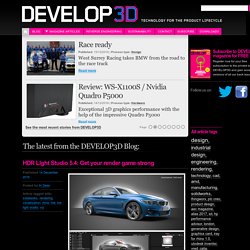 27 November 2012 Stephen Holmes 3d printing , slm , euromold , concept laser The real thing looks less crappy than this render, and a lot bigger Having already seen the launch of the large build Objet1000 at Euromold, Concept Laser has launched the (Terminator-esque-sounding) X line 1000R, its large-scale laser fusing machine initially designed for Daimler . Daimler requested the Fraunhofer Institute for Laser Technology and the LaserCUSING (equivalent to SLM) specialist Concept Laser to develop the X line 1000R, which apparently has the largest build chamber size yet developed, and a high-power laser in the kilowatt range that purportedly gives a 10-times increase in productivity compared with standard SLM machines.
All time top five top fives list of 2009: #5 Top Five peo
Ricky Jordan's Blog - SolidWorks, The CAD Industry, & More!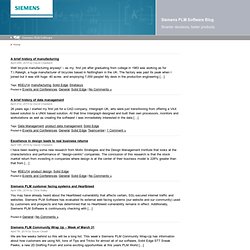 Get Calibrated! January 22nd, 2014 by John Whetstone In the 1973 movie, Magnum Force, Harry Callahan (played by Clint Eastwood) battles a group of vigilante cops led by Inspector Briggs. It's a classic action movie with Callahan eliminating the vigilante cops one by one until only their leader remains. In the final scene, Callahan utters the iconic phrase "A man's got to know […]
PLM Software Blog
Jump to Comments by Markus Erlmann | 15 Dec 2009 What can I write about this short video?
Jack and Jill and the Xmas Tree - Siemens PLM Software Blog
So You Want To Make CAD Software - Siemens PLM Software Blog
Jump to Comments by Mark Burhop | 19 Jan 2010 I had a talk with one of our software developers the other day asking what it is like to work on CAD software. You might think this was over coffee in the break room but really, we were separated by several thousand miles. For Solid Edge Simulation , we have developers contributing from all over the world (Alabama, Pennsylvania, Ohio in the US and England and India outside the US.) and this is just a small product. In this case I was talking with Sameer Kanikdale in Pune, India .
Pulse™ Latest News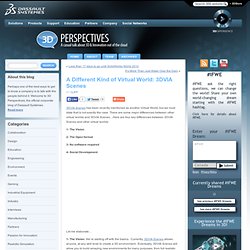 3DVIA Scenes has been recently mentioned as another Virtual World, but we must state that is not exactly the case. There are some major differences between other virtual worlds and 3DVIA Scenes…Here are four key differences between 3DVIA Scenes and other virtual worlds: 1- The Vision
3D PERSPECTIVES » Blog Archive » A Different Kind of Virtual Wor
Autodesk Cloud Hard Sell Today I attended part of a web cast from Autodesk introducing their 2014 line of products. I have to say that they have an amazing breadth of tools . Some of the tools they have acquired are truly tops in their respective industries, like Alias, 3DSmax, Moldflow, and many others. It's hard getting past my vision of Autodesk as being the cheap junk aisle of the CAD market. Products in the past such as AutoCAD, Mechanical Desktop, Inventor, and Algor have reinforced this notion.
SolidWorks Blog
WorldCAD Access
An in-depth look at Autodesk's cloud-enabled, hybrid MCAD modeling software Reprinted with permission of Design Engineering, October 16, 2013by Ralph Grabowski In response to the CAD industry's direct modeling mania, Autodesk first announced Inventor Fusion—a desktop installed 3D modeler that combined freeform and solid modeling in a history-free environment—as tech demo on June 24, 2009. Four years later, Autodesk similarly picked June 25 of this year to publicly announce Fusion 360, a cloud-enabled version of the original, thereby adding a modeling component its line of 360 products (including Simulation, PLM and BIM). Fusion 360 is hybrid software in two ways. For one, it's not a pure cloud-only app running in a Web browser.
PTC describes its approach to social media - WorldCAD Access
Alan Belniak, the newly appointed Director of Social Media Marketing at Parametric Technology Corporation, talked yesterday to Barbara Bix of BB Marketing Plus on her The Top Line blog ("Attract better business, shorten the sales cycle, and accelerate revenues"). Explains Mr Belniak: Engagement is the name of the game. Engagement equals a valuable brand. Valuable brands attract more customers.
Recent News
BCS Championship: For the good of the game, root for Texas - ESP
There is a tornado about a mile from my house in Hampton Cove. o