Jobs
Online Advertising Trends 2012 - Fourth Source. This is part of the 2012 Digital Marketing Trends Series.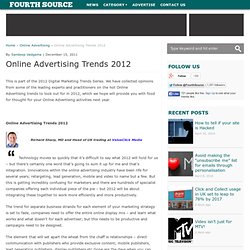 We have collected opinions from some of the leading experts and practitioners on the hot Online Advertising trends to look out for in 2012, which we hope will provide you with food for thought for your Online Advertising activities next year. Online Advertising Trends 2012 Download our full free Digital Marketing Trends 2012 Report. By Sandeep Vadgama Founder/Editor of Fourth Source and freelance SEO/Digital Marketer based in London. 4 Hot Digital Advertising Trends You Can't Ignore. Listen, the way most people talk about marketing online makes it sound like all you need to succeed is a simple social media strategy, an email newsletter and a sound SEO strategy.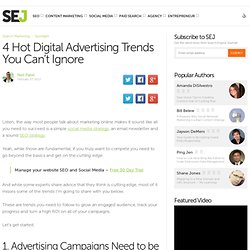 Yeah, while those are fundamental, if you truly want to compete you need to go beyond the basics and get on the cutting edge. Manage your website SEO and Social Media – Free 30 Day Trial And while some experts share advice that they think is cutting edge, most of it misses some of the trends I'm going to share with you below. Five online advertising trends to expect in 2012. As marketers put the finishing touches on 2012 budgets and plans, it's important to make sure they have been developed with an adequate point of view of the future.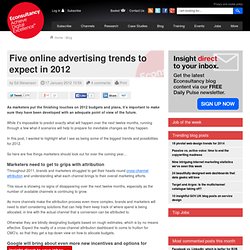 While it's impossible to predict exactly what will happen over the next twelve months, running through a few what-if scenarios will help to prepare for inevitable changes as they happen. In this post, I wanted to highlight what I see as being some of the biggest trends and possibilities for 2012. So here are five things marketers should look out for over the coming year...
5 Key Digital Media and Advertising Trends for 2012. The past year didn't see the emergence of the next Facebook or Twitter.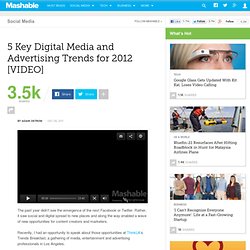 Rather, it saw social and digital spread to new places and along the way enabled a wave of new opportunities for content creators and marketers. Recently, I had an opportunity to speak about those opportunities at ThinkLA's Trends Breakfast, a gathering of media, entertainment and advertising professionals in Los Angeles. Summer breaks in south-west France | Discover Aquitaine. Commissioning editor: Rachel Truman Supervising editor for GNM: Pas Paschali (pas.paschali@guardian.co.uk)Produced for Guardian Brand Partnerships by Seven Plus to a brief agreed with Atout France and the Aquitaine TourismPaid for by Atout France and Aquitaine Tourism.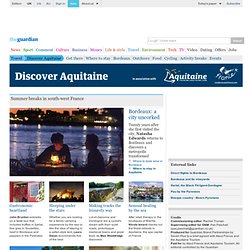 All editorial controlled by the GuardianContact: Laura Salt 020-3353 3567 From time to time the Guardian offers companies and organisations the opportunity to partner with us on specially commissioned sections on subjects we think are of interest to our readers. For more information about how we work with commercial partners on customised publications, please visit guardian.co.uk/sponsored-content. South African Tourism | My Mission - South Africa. Visit Wales - Find your perfect holiday in Wales | Visit Wales. Art of literature | Folio Society - Beautiful Books. Guardian News and Media press release: Guardian wins major campaign deal with VisitEngland | GNM press office. The Guardian has won a six-figure campaign deal with VisitEngland to promote its high-profile 'Enjoy Every Minute; Enjoy England' campaign, which encourages members of the public to 'treat every trip like a holiday'.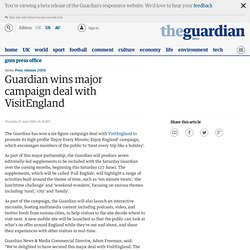 As part of this major partnership, the Guardian will produce seven editorially-led supplements to be included with the Saturday Guardian over the coming months, beginning this Saturday (27 June). The supplements, which will be called 'Full English', will highlight a range of activities built around the theme of time, such as 'ten minute treats', 'the lunchtime challenge' and 'weekend wonders', focusing on various themes including 'rural', 'city' and 'family'. As part of the campaign, the Guardian will also launch an interactive microsite, hosting multimedia content including podcasts, video, and twitter feeds from various cities, to help visitors to the site decide where to visit next. Advertising | Media. Creative Lounge | Media. 30 Super Innovative Print Ad Campaigns. 30 Super Innovative Print Ad Campaigns Most advertising is thoroughly underwhelming.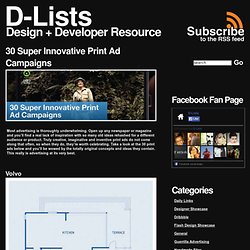 Open up any newspaper or magazine and you'll find a real lack of inspiration with so many old ideas rehashed for a different audience or product. IPA Effectiveness: Advertising Case Studies. Papers submitted to every IPA Effectiveness Awards competition since 1980, including the former AREA and Scottish IPA Effectiveness Awards, have been compiled and indexed to form the IPA Effectiveness Awards Databank.
You can search and download individual case studies from this site (prices are based on whether you are a member, non-member or a student). Alternatively you can buy a recent edition of Advertising Works, a series of hardback books containing winning cases from every competition.
---