Security
IT Security
One thing that amazes me is that the most developers are not familiar with strong cryptography. In my career, I've seen all sort of mistakes that lead to leaked data, guessable passwords, unfortunate disclosures, and worse. The nice thing is, you don't have to understand the ridiculously complex math behind the algorithms, you only have to know the rules for using them correctly. By the end of this series, my goal is to de-mystify the magic, so you can start using the primitives in your code right away! But first, when I say Strong Cryptography, what the hell am I referring to anyway?
Introduction to Strong Cryptography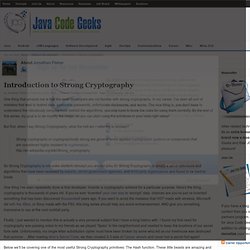 Java Examples & Code Snippets - crypto
Acunetix Kullanımı ve Acunetix ile XSS saldırısı - Eyüp ÇELİK // Bilgi Teknolojileri Güvenlik Uzmanı
Web uygulamalarında, güvenlik açıklarının çok olması sebebi ile bilinen tüm güvenlik açıklarını bir web sayfası üzerinde manüel olarak test etmemiz neredeyse imkânsız denilebilecek bir zaman gerektirmektedir. Gün geçtikçe yeni güvenlik açıkları keşfedilmektedir. Hazırlamış olduğumuz web uygulamasının güvenliği, web uygulamasının çalışmasından çok daha önemlidir. Bir web sitesinin hâlihazırda çalışır halde olması değil, güvenli bir şekilde çalışıyor olması önemlidir. 2008'den bu yana hackerlar saldırılarını sistem ve network hackingden, web hackinge doğru değiştirdiler. Bunun en büyük nedeni, web uygulamalarına yapılan saldırıların daha kolay ve daha çok getirisi olmasıdır.
CEH Türkiye ekibi olarak ilk seminerimizi vermiş olduğumuz Afyon Kocatepe Üniversitesine yaklaşık 5 yıl sonra tekrardan misafir olmanın keyfini, saygıdeğer Hocalarımız ve Öğrenci arkadaşlarımızla bir araya gelmenin mutluluğunu yaşadık. İlgili ve meraklı dinleyicilerden oluşan kalabalık bir gruba öncelikle Harun ŞEKER ağabey nasihatlerinden oluşan "Hacker Kültürü ve Etik Hacker" sunumumu yaptıktan sonra Ozan Uçar "Son Kullanıcıya Yönelik Saldırılar" konusunda uygulamalı bir sunum gerçekleştirdi… Katılımın yüksek olduğu seminer sonrasında akşam yemeği ve kalabalık bir grupla çay keyfi yaptık.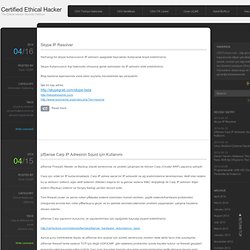 CEH | Certified Ethical Hacker | Etik Hacker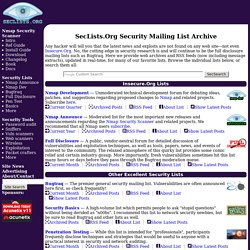 — Peter G. Neumann moderates this regular digest of current events which demonstrate risks to the public in computers and related systems. Security risks are often discussed. Risks Digest 27.69RISKS List Owner (Jan 07) RISKS-LIST: Risks-Forum Digest Monday 6 January 2014 Volume 27 : Issue 69ACM FORUM ON RISKS TO THE PUBLIC IN COMPUTERS AND RELATED SYSTEMS (comp.risks) Peter G.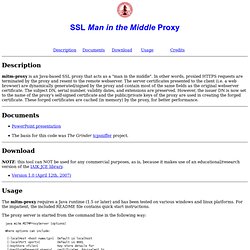 Description mitm-proxy is an Java-based SSL proxy that acts as a "man in the middle". In other words, proxied HTTPS requests are terminated by the proxy and resent to the remote webserver. The server certificates presented to the client (i.e. a web browser) are dynamically generated/signed by the proxy and contain most of the same fields as the original webserver certificate. The subject DN, serial number, validity dates, and extensions are preserved.
SSL MITM Proxy
Security Aegis
2002 yılından beri vakit buldukca çeşitli güvenlik konularında yazılar hazırlarım, konferanslara katılırım. Aşağıdaki yazı/sunumlar 2002′den itibaren yaptığım çalışmaları yansıtmaktadır . Bazı yazıların yayınlandığı siteler kapandığı için tek ulaşım yolu Google'den yazının başlığını aratmaktır. Aktif olarak katkıda bulunduğum bloglar http://www.lifeoverip.net http://blog.bga.com.tr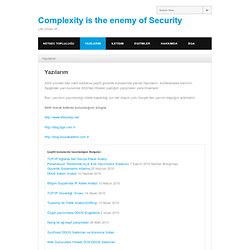 Yazılarım | Complexity is the enemy of Security
Hackvertor