Mobile Website Study
Guidelines for user interaction. Description Create Windows Store apps with intuitive and distinctive user interaction experiences that are optimized for touch but functionally consistent across input devices.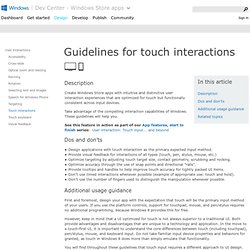 Take advantage of the compelling interaction capabilities of Windows. These guidelines will help you. See this feature in action as part of our App features, start to finish series: User interaction: Touch input... and beyond Dos and don'ts. MobiForge. 0106. Mobile Web Design: Tips & Techniques.
We've examined the mobile web landscape.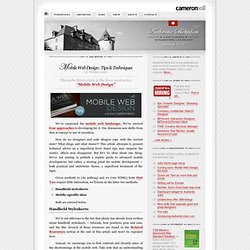 We've covered four approaches to developing for it. Our discussion now shifts from that of concept to one of execution. How do we designers and code slingers cope with the current state? What slings and what doesn't? Mobile Web Design: 10 Tips To Better Usability. Mobile web browsing is expected to turn into the next major Internet platform.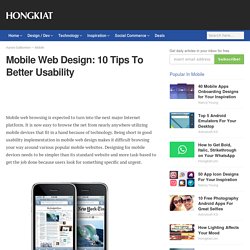 It is now easy to browse the net from nearly anywhere utilizing mobile devices that fit in a hand because of technology. Being short in good usability implementation in mobile web design makes it difficult browsing your way around various popular mobile websites. Designing for mobile devices needs to be simpler than its standard website and more task-based to get the job done because users look for something specific and urgent.
---