Mobile Website Study
These guidelines will help you create intuitive and immersive user interaction experiences for your Windows Store app that expose consistent functionality for all users, no matter what device or input method is used. While Windows 8 provides unique and distinctive user interactions that are optimized for touch, more familiar and established input devices and methods, such as mouse, keyboard, and pen/stylus, are still fully supported. So take advantage of these new and compelling interaction capabilities as you create your Windows Store app for Windows 8. Design for a touch-first experience First and foremost, design your app with the expectation that touch will be the primary input method of your users. Support for mouse and pen/stylus requires no additional work as Windows 8 provides this for free.
Guidelines for user interaction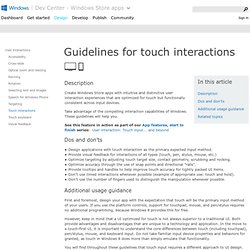 0106
Mobile Web Design: Tips & Techniques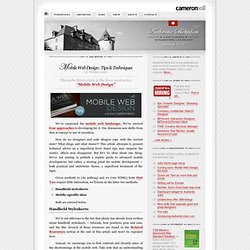 We've examined the mobile web landscape.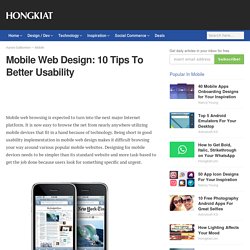 Mobile Web Design: 10 Tips To Better Usability
Mobile web browsing is expected to turn into the next major Internet platform.
Create Mobile Websites with Free Mobile Web Design - WixMobile | Wix.com