Javascript
jTypeWriter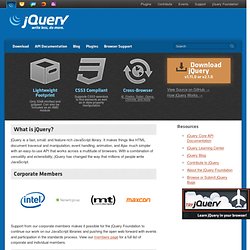 What is jQuery? jQuery is a fast, small, and feature-rich JavaScript library. It makes things like HTML document traversal and manipulation, event handling, animation, and Ajax much simpler with an easy-to-use API that works across a multitude of browsers.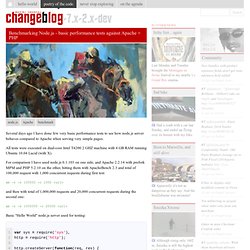 Benchmarking Node.js - basic performance tests against Apache + PHP :: Change(b)log
Several days ago I have done few very basic performance tests to see how node.js server behaves compared to Apache when serving very simple pages. All tests were executed on dual-core Intel T4200 2 GHZ machine with 4 GB RAM running Ubuntu 10.04 Lucid (with X). For comparison I have used node.js 0.1.103 on one side, and Apache 2.2.14 with prefork MPM and PHP 5.2.10 on the other, hitting them with ApacheBench 2.3 and total of 100,000 request with 1,000 concurrent requests during first test: ab -r -n 100000 -c 1000 <url> and then with total of 1,000,000 requests and 20,000 concurrent requests during the second one:
Suite à mon article sur le Développement web avec node.js, je me suis intéressé à la mise en production de ce formidable et performant framework javascript, pour réaliser des servelets ou applications webs. Tout d'abord il faut se rappeler que node.js, est un framework javascript, qui va permettre de réaliser des serveurs d'applications réseaux, qui écoutent sur un port tcp. Pour utiliser un script node.js en production, il faut qu'il démarre automatiquement comme un daemon.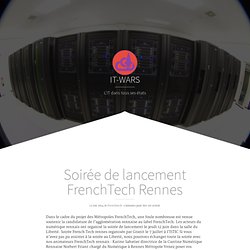 Utiliser node.js en production
saschagehlich/hotnode - GitHub
Mike Cantelon | Javascript, HTML5, and such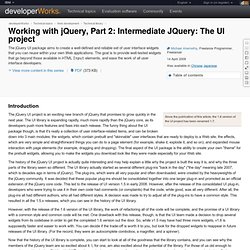 Introduction
Working with jQuery, Part 2: Intermediate JQuery: The UI project
August 12th, 2011 For the purposes of this post, I will be talking about JavaScript objects using syntax defined in ECMAScript 5.1. The basic semantics existed in Edition 3, but they were not well exposed. In JavaScript, objects are pairs of keys and values (in Ruby, this structure is called a Hash; in Python, it's called a dictionary). For example, if I wanted to describe my name, I could have an object with two keys: `firstName` would point to "Yehuda" and `lastName` would point to "Katz". Keys in a JavaScript object are Strings.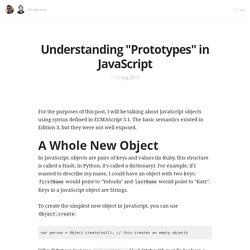 Understanding "Prototypes" in JavaScript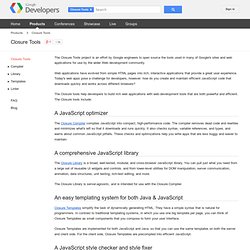 The Closure Tools project is an effort by Google engineers to open source the tools used in many of Google's sites and web applications for use by the wider Web development community. Web applications have evolved from simple HTML pages into rich, interactive applications that provide a great user experience. Today's web apps pose a challenge for developers, however: how do you create and maintain efficient JavaScript code that downloads quickly and works across different browsers? The Closure tools help developers to build rich web applications with web development tools that are both powerful and efficient. The Closure tools include: A JavaScript optimizer
clojure/clojurescript - GitHub
danlucraft/git.js - GitHub
Suite à mon article sur le Développement web avec node.js, je me suis intéressé à la mise en production de ce formidable et performant framework javascript, pour réaliser des servelets ou applications webs. Tout d'abord il faut se rappeler que node.js, est un framework javascript, qui va permettre de réaliser des serveurs d'applications réseaux, qui écoutent sur un port tcp. Pour utiliser un script node.js en production, il faut qu'il démarre automatiquement comme un daemon. Pour un serveur de Linux de type debian, il faut procéder ainsi :
Utiliser node.js en production
In support of an upcoming &yet product (ssssssh!), I was asked to create a JavaScript wrapper around a REST-based API we're using from node.js. If you've been there, you might know how it goes: guess which API features the current project actually needs, make up some sort of "native" object representation, implement some bridge code that kinda works, and as a finishing touch, slap a link to the service's real documentation atop the code you left stubbed out for later. Or, you find someone else's wrapper library. They took the time to implement most features, and even wrote their own version of the documentation — but the project they needed it for was cancelled years ago, so their native library still wraps the previous version of the server API, without the new features you need. On one hand, the HTTP REST server offers all the newest features, with official usage documented by the service provider.
Using the REST interface as the JavaScript interface with Fermata | &yet | the blog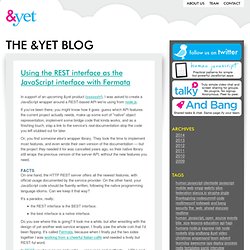 jQuery Waypoints
.waypoint([callback], [options]) callback type function, optional options type object, optional Calling the waypoint function on a set of elements registers them as waypoints. You can pass in a callback function…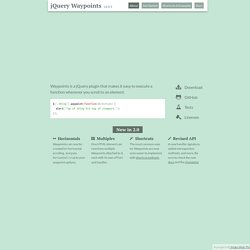 Super sexy iOS style badges for jQuery May 14, 2011 Give your users a dose of familiarity with iOS style badges. Badger will easily add a beautiful badge to your element without the need for images. Modelled after the badges found on the iPhone and iPad, Badger is an incredibly attractive way to notify your users in a manner that they may already be familiar with.
Badger - Super sexy iOS style badges for jQuery