iPhone
Rocketr - Think Together.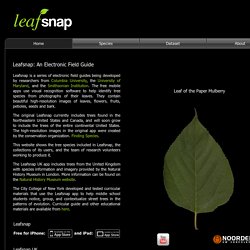 Leafsnap is the first in a series of electronic field guides being developed by researchers from Columbia University, the University of Maryland, and the Smithsonian Institution. This free mobile app uses visual recognition software to help identify tree species from photographs of their leaves. Leafsnap contains beautiful high-resolution images of leaves, flowers, fruit, petiole, seeds, and bark created by the conservation organization Finding Species. Leafsnap currently includes the trees of the Northeast and will soon grow to include the trees of the entire continental United States. This website shows the tree species included in Leafsnap, the collections of its users, and the team of research volunteers working to produce it.
From xGPS xGPS is a free project aiming to bring powerful and easy to use navigation software to the iPhone and iPod Touch. xGPS has many powerful features including: turn-by-turn directions, vocal instructions, offline maps support and more. A utility called xGPS Manager can be used to download maps on to your computer, and upload them wirelessly to your iPod Touch or iPhone. xGPS currently uses Google Maps for maps and the routing data, meaning xGPS will work wherever there is Google Maps support. Please note that this website is under heavy construction and not all the pages are written. If you want to help to write the documentation, feel free to create an account and start writing pages.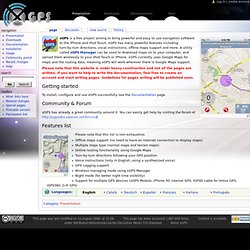 xGPS