console
Get flash to fully experience Pearltrees
Je ne sais pas si cette astuce vous sera utile, mais je vous la donne quand même. Il s'agit d'une technique qui utilise ImageMagick pour convertir le résultat d'une commande sous forme d'image. Voici un exemple d'utilisation pour le résultat de la commande ifconfig : ifconfig | convert label:@- command.png Si l'on souhaite avoir le fond en noir et le texte en blanc :
L'habillage du prompt en mode console n'est pas uniquement une question d'esthétique. Souvent négligé par de nombreuses distributions, le prompt est la première source d'information transmise à l'utilisateur ou à l'administrateur. Parmi les données utiles qu'il peut transmettre, on peut trouver : la couleur pour indiquer la différence entre les sessions "root" et les autres, la localisation (dans quel répertoire sommes nous), l'heure, etc… La variable de personnalisation du prompt sous Bash et ses dérivés est "PS1″.
In grad school, I once saw a prof I was working with grab a text file and in seconds manipulate it into little pieces so deftly it blew my mind. I immediately decided it was time for me to learn awk, which he had so clearly mastered. To this day, 90% of the programmers I talk to have never used awk.
Introduction coccigrep is a semantic grep for the C language based on coccinelle . It can be used to find where a given structure is used in code files. coccigrep depends on the spatch program which comes with coccinelle. Download and source Latest version is 1.12: coccigrep-1.12.tar.gz The source can be accessed via github .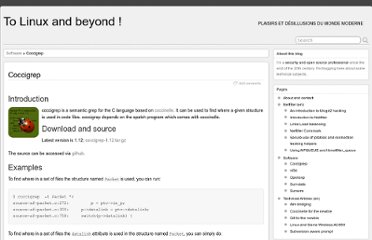 GNU grep is one of my go-to tools on any Linux box. But grep isn't the only tool in town. If you want to try something a bit different, check out glark a grep alternative that might might be better in some situations.
Precision colors for machines and people Solarized is a sixteen color palette (eight monotones, eight accent colors) designed for use with terminal and gui applications. It has several unique properties .
WebUpd8 reader Lu Wang sent us an email about a beautiful (and very popular) color theme for various applications called "Solarized". Solarized comes with both light and dark colorschemes and what makes it so special is that the contrast is " low in lightness but the colors are still well distinguishable due to the different hue values used " says Lu Wang. But that's of not all.