Numeracy
Numberphile - Videos about Numbers and Stuff
12 Shapes You Didn't Know Had Names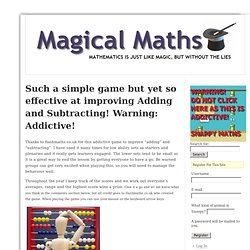 Thanks to flashmaths.co.uk for this addictive game to improve "adding" and "subtracting". I have used it many times for low ability sets as starters and plenaries and it really gets learners engaged. The lower sets tend to be small so it is a great way to end the lesson by getting everyone to have a go. Be warned groups can get very excited when playing this, so you will need to manage the behaviour well.
Such a simple game but yet so effective at improving Adding and Subtracting! Warning: Addictive!
s Math File Cabinet
www.wmnet.org.uk/resources/gordon/sequences v6.swf
www.wmnet.org.uk/custom/files_uploaded/uploaded_resources/846/snowflake-sequencesv2.swf
Mathsframe: 170+ quality interactive maths games for KS2 - Sequences
Mathsframe: 170+ quality interactive maths games for KS2 - Shape Sequences
www.primaryresources.co.uk/maths/powerpoint/sequences.swf
www.oswego.org/ocsd-web/games/spookyseq/spookytrino.swf
Homer Simpson's scary maths problems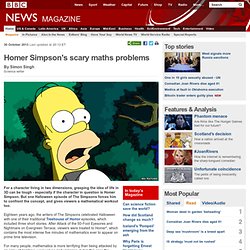 30 October 2013Last updated at 20:13 ET By Simon Singh Science writer For a character living in two dimensions, grasping the idea of life in 3D can be tough - especially if the character in question is Homer Simpson. But one Halloween episode of The Simpsons forces him to confront the concept, and gives viewers a mathematical workout too. Eighteen years ago, the writers of The Simpsons celebrated Halloween with one of their traditional Treehouse of Horror episodes, which included three short stories. After Attack of the 50-Foot Eyesores and Nightmare on Evergreen Terrace, viewers were treated to Homer³, which contains the most intense five minutes of mathematics ever to appear on prime time television. For many people, mathematics is more terrifying than being attacked by an army of zombies, werewolves and vampires, but in this case the various equations were included because the writer of Homer³, David S Cohen, is a fan of numbers.
Math in the News: Issue 70
Shapes that tessellate
Index --- grids --- squares (examples) --- triangles (examples) --- Escher-style (examples) --- for teachers Triangles, squares and hexagons are the only regular shapes which tessellate by themselves. You can have other tessellations of regular shapes if you use more than one type of shape. You can even tessellate pentagons, but they won't be regular ones. Tessellations can be used for tile patterns or in patchwork quilts!
maths1
Centre for Innovation in Mathematics Teaching - Mathematics Enhancement Programme
McDonald's is the largest hamburger fast food chain in the world serving food in about 120 countries. The company was founded in 1940 by two brothers, Richard McDonald and Maurice McDonald. Today, McDonalds prices are very competitive with the rest of the fast food industry. McDonalds sells many types of foods including hamburgers, french fries, chicken, cheeseburgers, soft drinks, and salads.
McDonalds Prices | Fast Food Menu Prices
Subtraction Worksheets | Dynamically Created Subtraction Worksheets
Dynamically Created Subtraction Worksheets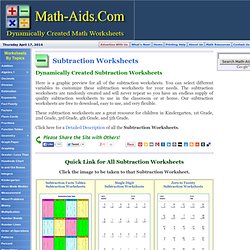 Classroom Architect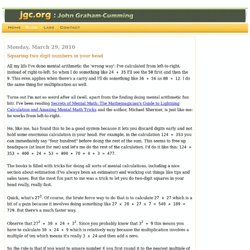 Squaring two digit numbers in your head
All my life I've done mental arithmetic the 'wrong way': I've calculated from left-to-right, instead of right-to-left.
Mathematical mysteries: Hailstone sequences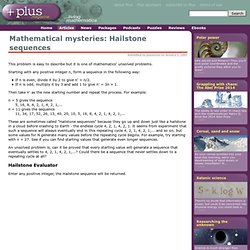 January 1997 This problem is easy to describe but it is one of mathematics' unsolved problems.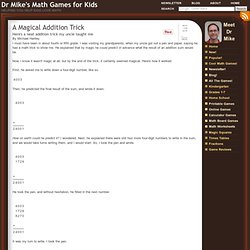 I must have been in about fourth or fifth grade.
Addition Trick | Dr Mike's Math Games for Kids
10 Easy Arithmetic Tricks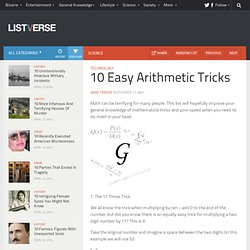 Technology Math can be terrifying for many people. This list will hopefully improve your general knowledge of mathematical tricks and your speed when you need to do math in your head.
Free Primary Maths Resources - Math Resources - Printable Maths Worksheets - Learning Clip
age calculator at Math Cats
Math
Number Gossip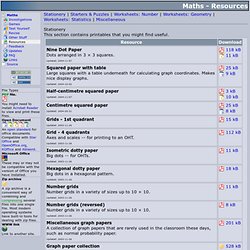 Resources
Maths - Resources Maths Investigations
Free Math Worksheets - General Math Worksheets
The Math Worksheet Maker will generate a worksheet with a series of basic math problems.
Math Notes
Print Free Graph Paper
Moving the decimal point by increment of two digit in a number (factor of 100), moves the decimal point by increments of one digit in its square root (factor of 10).This method works for any base, not just in base 10 (decimal).Feel free to present the calculus anyway you are more comfortable with. Some people write the result above the starting number.An alternative method using continued fractions can be found at http://en.wikipedia.org/wiki/Methods_of_computing_square_roots#Generalized_continued_fraction:
How to Calculate a Square Root by Hand
Dance, Factors, Dance – A Variation On Yorgey's Factorization Diagrams
Upon first sight of Brent Yorgey's brilliant Factorization Diagrams, I knew that I should take his lovely little dots and make them dance. Our first tango would be inspired by the digital clock, with a separate diagram for each of the hours, minutes, and seconds. For example, we'd portray 4:34:27 am like so:
Number Line-Up
Place Value Activities
Activities
Home - On Your Mark Mathematics
Math Does Not Equal Calculating: Using Computer-Based Math Education
Maths - Problem Solving Teaching Ideas
Maths and Stats by Email | Why is A4 paper the size that it is? Tangrams
BBC - Skillswise - Maths
Sheppard Software: Fun free online learning games and activities for kids.
www.wmnet.org.uk/resources/gordon/Hit the button v9.swf
Kids.Net.Au - Encyclopedia > Binary numeral system
Modeling integers
$1,000,000 Problems
Math Exercises for Grade 6
MATHS INVESTIGATIONS
GAMEUP | SQUARE OFF
Standard Deviation and Variance
StudyJams
Percent with a calculator -- Problems
30 fast mental math Tricks : EasyCal Secrets of Mental Math techniques
Sixth Grade Interactive Math Skills - Ratio and Proportion
Rep-Tile
nrich.maths.org :: Mathematics Enrichment :: August 2011 Front Page
A Click Math Skill Tests and Problems for Grade K-1 K-12
Interactive Assessment Worksheets
Numbaland!
Toys from Trash
Free Fractions Tools | Conceptua Fractions
Igor Kokcharov - Books on the iBookstore
What's Special About This Number?
A+ Click Math Skill Tests and Problems for Grade K-1 K-12
Paper Models of Polyhedra
GraphSketch