Blogging
Get flash to fully experience Pearltrees
One of the things that my students love the most on our KidBlog are our weekly blog challenges. And while these challenges are in sense homework, they always have the opportunity to do them at school, and get enough time to do it without being a hassle. Over the past two years we have had quite a lot of fun with these, so why not share for all you blogging with your students. Feel free to borrow or change to suit your kids. I have broken these into categories for easier reading. All About You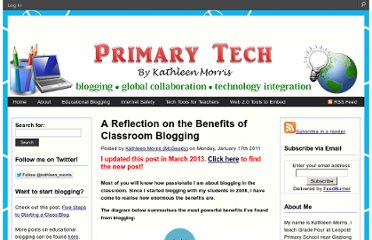 Posted by Kathleen Morris (McGeady) on Monday, January 17th 2011 Most of you will know how passionate I am about blogging in the classroom. Since I started blogging with my students in 2008, I have come to realise how enormous the benefits are. The diagram below summarises the most powerful benefits I've found from blogging:
by Ali Hale Do you have your own blog? If so, do you sometimes feel guilty about spending time writing for your blog rather than working on something which you consider more "worthwhile"? If you don't have a blog, have you ever thought of starting one? Perhaps you're not sure whether it would be worth the investment of your time and energy. Here are five great ways that starting your own blog, or continuing writing the one you already have, can improve your writing.
global2 collaborate, communicate, create RSS Feeds Get your own global2.vic.edu.au account in seconds (Must be at least 4 characters, letters and numbers only.)
Posted by Miss Kelly Jordan on Wednesday, November 30th 2011 Today the students in 2KM and 2KJ worked on mini projects about sea creatures. Using the netbooks and classroom computers, students researched interesting facts about their chosen marine animal.