Legal
Untitled Document. Indian Law | Layman to Lawman. Google. India Law Legal Database- India and Law, Online Legal & Business Policy Database. Legal Research in India- Online Legal Research for India Laws. The Only Legal Publishing House include Case Laws, Judgments, Statutes, Notifications, Circulars, Notices, Rep. The Judgment Information System. Legally India - News for lawyers, Indian law firms, students. Lawyersclubindia - Law, Lawyers, Advocates, Law Firms,Legal Help, Legal Experts,Judgements, Social Network for Lawyers, Legal Community, Law Help, Indian Lawyers. Public Interest Litigation, PIL. We briefly dealt with Public Interest Litigation in the earlier Project on "Knowledge of Law Essential for Public Servants".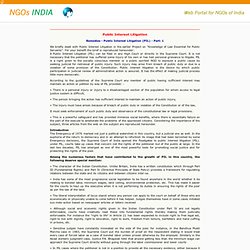 For your beneift the biref is reproduced hereunder: A Public Interest Litigation (PIL) can be filed in any High Court or directly in the Supreme Court. It is not necessary that the petitioner has suffered some injury of his own or has had personal grievance to litigate. PIL is a right given to the socially conscious member or a public spirited NGO to espouse a public cause by seeking judicial for redressal of public injury. Such injury may arise from breach of public duty or due to a violation of some provision of the Constitution. Public Interest Litigation. Public Interest Litigation Public interest litigation:- Its origin and meaning.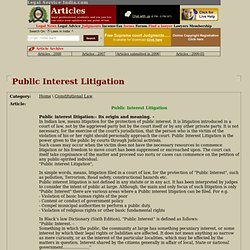 –In Indian law, means litigation for the protection of public interest. It is litigation introduced in a court of law, not by the aggrieved party but by the court itself or by any other private party. It is not necessary, for the exercise of the court's jurisdiction, that the person who is the victim of the violation of his or her right should personally approach the court. Introduction to Public Interest Litigation | Public Interest Litigation|Introduction | www.karmayog.org. Introduction to Public Interest Litigation (from Health Care Case Law in India – A Reader by CEHAT and ICHRL - pg. 199-200- edited by Adv.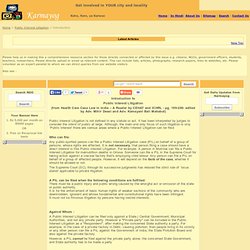 Mihir Deasi and Adv. Kamayani Bali Mahabal) 9_the_essential_law_dictionary__malestrom. Right to Information Act (India) Mumbai Traffic Police. Motor Vehicles Act | 5th Pillar. News : RTI Application Form. Welcome to the Lawyers Collective. Supreme Court Admits IA in NDPS 64A Case. Supreme Court admits Harm Reductionists' intervention in immunity from prosecution for drug offences case 10th August, Delhi: The Supreme Court allowed the Indian Harm Reduction (IHRN) to intervene and assist the Court in a case related to the interpretation of Section 64A of the Narcotics Drugs and Psychotropic Substances Act, 1985 (NDPS), a crucial provision that intersects between criminal justice and health for persons who use drugs.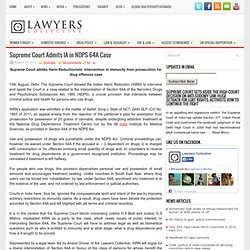 IHRN's application was admitted in the matter of Aatish Suraj v State of NCT, Delhi SLP (Crl) No. 1965 of 2011, an appeal arising from the rejection of the petitioner's plea for exemption from prosecution for possession of 20 grams of cannabis, despite undergoing addiction treatment at the National Drug Dependence Treatment Centre run by the All India Institute for Medical Sciences, as provided in Section 64A of the NDPS Act. Lawyers Update - Monthly Magazine for Students & Law Professionals.
Law Bare Acts for LLB. Prashant Mali Foundation    [[ Social Justice , Social Service ]]
---