Flight Info
You'll find information about Business Class and a sortable chart that can be used to compare Business Class seating among different airlines.
Long-haul Business Class Comparison Chart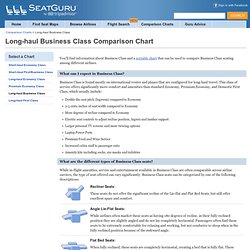 Where does FlightStats obtain its flight status information? Complete, accurate data is the cornerstone of our business and what sets us apart from competitive solutions: Geographic Coverage - FlightStats provides definitive information for approximately 99.5% of U.S. flights, and better than 86% of flights worldwide. Completeness - FlightStats queries multiple sources to create a record for each flight enabling us to offer a broader range of information (for example, gate information). Accuracy - We have invested heavily in the areas of parsing, interpretation and error checking and developed the logic that enables handling of difficult issues such as cancellations, diversions and changing schedules.
Track Flight Status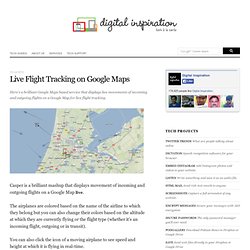 Here's a brilliant Google Maps based service that displays live movements of incoming and outgoing flights on a Google Map for live flight tracking.
Live Flight Tracking on Google Maps - Track Airplanes in Real-Ti
FlightTrack: Live International iPhone Flight Status Tracker wit
GMaps Flight Tracker