Flight Info
Long-haul Business Class Comparison Chart. You'll find information about Business Class and a sortable chart that can be used to compare Business Class seating among different airlines.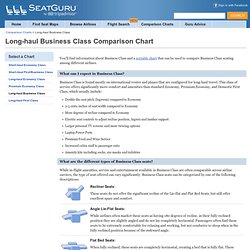 Business Class is found mostly on international routes and planes that are configured for long-haul travel. This class of service offers significantly more comfort and amenities than standard Economy, Premium Economy, and Domestic First Class, which usually include: Double the seat pitch (legroom) compared to Economy 2-3 extra inches of seat width compared to Economy More degrees of recline compared to Economy Electric seat controls to adjust recline position, legrest and lumbar support Larger personal TV screens and more viewing options Laptop Power Ports Premium Food and Wine Service Increased cabin staff to passenger ratio Amenity kits including socks, eye masks and toiletries.
Track Flight Status. Where does FlightStats obtain its flight status information?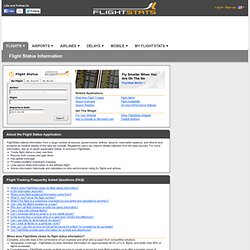 Complete, accurate data is the cornerstone of our business and what sets us apart from competitive solutions: Geographic Coverage - FlightStats provides definitive information for approximately 99.5% of U.S. flights, and better than 86% of flights worldwide. Completeness - FlightStats queries multiple sources to create a record for each flight enabling us to offer a broader range of information (for example, gate information). Accuracy - We have invested heavily in the areas of parsing, interpretation and error checking and developed the logic that enables handling of difficult issues such as cancellations, diversions and changing schedules.
Travel Mags. Live Flight Tracking on Google Maps - Track Airplanes in Real-Ti. Here's a brilliant Google Maps based service that displays live movements of incoming and outgoing flights on a Google Map for live flight tracking.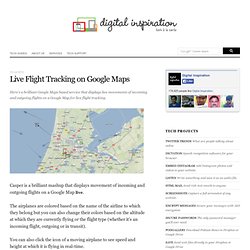 Casper is a brilliant mashup that displays movement of incoming and outgoing flights on a Google Map live. The airplanes are colored based on the name of the airline to which they belong but you can also change their colors based on the altitude at which they are currently flying or the flight type (whether it's an incoming flight, outgoing or in transit). You can also click the icon of a moving airplane to see speed and height at which it is flying in real-time. And if you are checking this service at a time where there isn't flight traffic at Schipol Airport, just select one of the past days from the drop down to replay the entire flight movement for that day on your computer screen. TripIt. FlightTrack: Live International iPhone Flight Status Tracker wit.
GMaps Flight Tracker.
---