Tips
Career advice, interview questions, salary comparisons, and resume tips from Monster. Resume and Application Tips. CareerDiva - Career Advice, Labor Issues, Job News and Opportunities, Balancing Work and Family. Are you afraid to ask for flexible work arrangements to deal with family issues?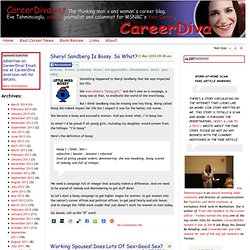 Or, do you think your employees aren't forthcoming about their work-life needs; and if they are do you worry requests for alternative work schedules could impact the bottom line? Discussions about using flexibility in order to make work "work" better for employees and employers can be difficult and that's why some people try to avoid them. But what if you were forced to sit down and talk? One politician in San Francisco – David Chiu, the city's Board of Supervisors' President — decided employees and employers needed a "nudge," so he introduced an ordinance to mandate such conversation, an ordinance that recently passed and goes into effect on Jan. 1, 2014.
Alltop - Top Careers News. Tips for Your Online Resume. 10 Tips for Getting that IT Job There's work out there, if you know how to get it.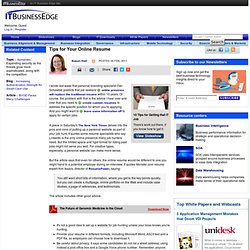 I wrote last week that personal branding specialist Dan Schawbel predicts that job seekers' online presence will replace the traditional resume within 10 years. Of course, the problem with that is the advice I hear over and over that you need to create custom resumes to address the specific position for which you're applying. Does your boss know you're job hunting? - Ask Annie. Using social media options like LinkedIn can be a great way to network your way to a new job.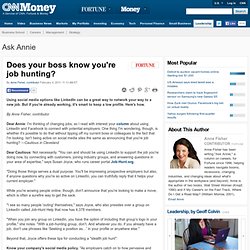 But if you're already working, it's smart to keep a low profile. Here's how. Where Job Seekers Should Be Online. In-person networking is an important part of any job search.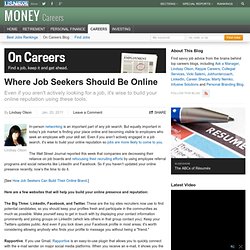 But equally important in today's job market is finding your place online and becoming visible to employers who seek an employee with your skill set. Even if you aren't actively engaged in a job search, it's wise to build your online reputation so jobs are more likely to come to you. The Wall Street Journal reported this week that companies are decreasing their reliance on job boards and refocusing their recruiting efforts by using employee referral programs and social networks like LinkedIn and Facebook.
So if you haven't updated your online presence recently, now's the time to do it. Career Watch: Job interview do's and don'ts. By Jamie Eckle October 25, 2010 06:00 AM ET Computerworld - Smile, You're at a Job Interview.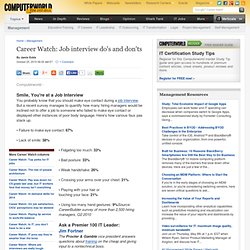 Career Advice and Guide for Job Searches - US News Business. Around the Water Cooler With C-Span's CEOs Co-CEOs Susan Swain and Rob Kennedy share tips for expanding your audience and staying relevant.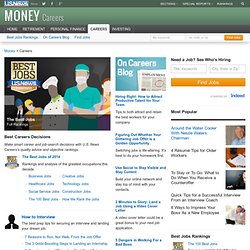 Around the Water Cooler With Whole Foods' CEO Walter Robb shoves the corporate ladder under the table, just like his Brussels sprouts. Around the Water Cooler With a General Motors Vice President Diana Tremblay shares tips for taking the driver's seat in your company and career. We actually want you to be honest.: 21 Things Hiring Managers Wish You Knew - US News & World Report.
I see too many job applicants who approach the interview as if their only goal is to win a job offer, losing sight of the fact that this can land them in the wrong job.
Think of it like dating. This means being honest about your strengths and weaknesses and giving the hiring manager a glimpse of the real you, so he or she can make an informed decision about how well you'd do in the job. Alison Green writes the popular Ask a Manager blog, where she dispenses advice on career, job search, and management issues. She's also the author of Managing to Change the World: The Nonprofit Leader's Guide to Getting Results.
---