Tips
Resume and Application Tips
A while back I tweeted this to my nearly 16,000 followers on Twitter and I got an avalanche of responses and retweets: #1 issue facing women in the workforce today: How we topple the 1950s-company-man sustained model, where women have no say. Why did it get so much attention? Because women are sick and tired of trying to fit their lives into an out-dated workplace model that no longer fits for today's realities. Women are juggling children and careers, caring for aging family members, and all the while penalized for it with less pay and little to no representation the nation's leadership ranks, in everything from Corporate America to the halls of Congress.
CareerDiva - Career Advice, Labor Issues, Job News and Opportunities, Balancing Work and Family.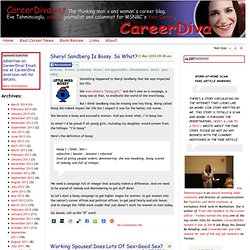 Alltop - Top Careers News
Tips for Your Online Resume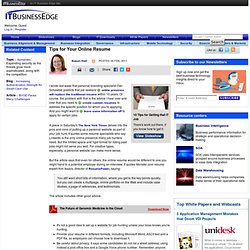 10 Tips for Getting that IT Job There's work out there, if you know how to get it. I wrote last week that personal branding specialist Dan Schawbel predicts that job seekers' online presence will replace the traditional resume within 10 years. Of course, the problem with that is the advice I hear over and over that you need to create custom resumes to address the specific position for which you're applying.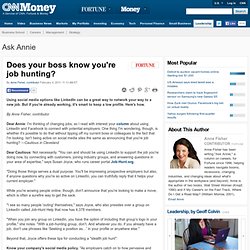 Using social media options like LinkedIn can be a great way to network your way to a new job. But if you're already working, it's smart to keep a low profile. Here's how.
Does your boss know you're job hunting? - Ask Annie
Where Job Seekers Should Be Online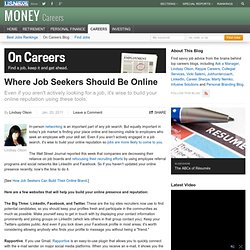 In-person networking is an important part of any job search. But equally important in today's job market is finding your place online and becoming visible to employers who seek an employee with your skill set. Even if you aren't actively engaged in a job search, it's wise to build your online reputation so jobs are more likely to come to you . The Wall Street Journal reported this week that companies are decreasing their reliance on job boards and refocusing their recruiting efforts by using employee referral programs and social networks like LinkedIn and Facebook. So if you haven't updated your online presence recently, now's the time to do it.
Career Watch: Job interview do's and don'ts
By Jamie Eckle October 25, 2010 06:00 AM ET Computerworld - Smile, You're at a Job Interview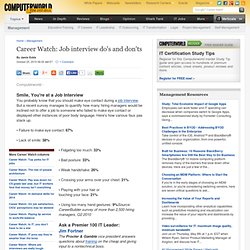 We actually want you to be honest.: 21 Things Hiring Managers Wish You Knew - US News & World Report
iStockPhoto I see too many job applicants who approach the interview as if their only goal is to win a job offer, losing sight of the fact that this can land them in the wrong job. Think of it like dating. This means being honest about your strengths and weaknesses and giving the hiring manager a glimpse of the real you, so he or she can make an informed decision about how well you'd do in the job. Alison Green writes the popular Ask a Manager blog, where she dispenses advice on career, job search, and management issues.