Help Paying Medical Bills
How to find medical billing errors. Below you will find some of the best tips to follow in order to discover medical billing errors.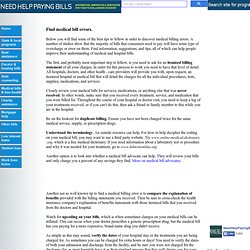 A number of studies show that the majority of bills that consumers need to pay will have some type of overcharge or error on them. Find information, suggestions, and tips, all of which can help people improve their understanding of medical and hospital bills. SMART MEDICAL CONSUMER - Manage your healthcare finances wisely. Example Analysis from Smart Medical Consumer free app. Medical bills you should not pay - balance billing. Millions of Americans are being confused by unclear billing practices and are in effect paying medical bills that they do not owe on.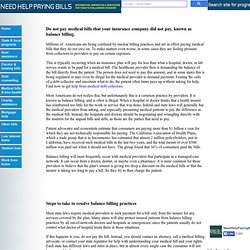 To make matters even worse, in some cases they are feeling pressure from collectors or providers to pay on certain expenses. This is typically occurring when an insurance plan will pay for less than what a hospital, doctor, or lab service wants to be paid for a medical bill. Need help with debt collectors. What does the debt collector need to tell me about the bills or debt?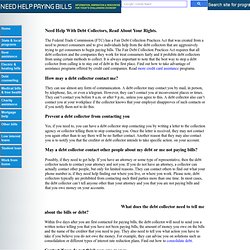 Within five days after you are first contacted for paying bills, the debt collector will need to send you a written notice telling you that you have not been paying bills, the amount of money you owe on the bills and the name of the creditor that you need to pay. They also need to tell you what action you have to take if you believe you do not owe the money. For example, they can advise you on solutions such as consolidation or different types of interest rate reduction plans. Laws in California for help with medical debt and bills. The state of California has a law known as the California Health and Safety Code, that protects patients by addressing hospital billing as well as ensuring fair pricing policies are in place.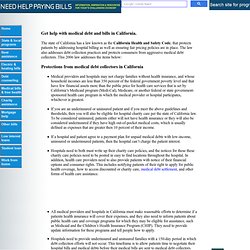 The law also addresses debt collection practices and protects consumers from aggressive medical debt collectors. This 2006 law addresses the items below: Protections from medical debt collectors in California Medical providers and hospitals may not charge families without health insurance, and whose household incomes are less than 350 percent of the federal government poverty level and that have few financial assets more than the public price for health care services that is set by California's Medicaid program (Medi-Cal), Medicare, or another federal or state government-sponsored health care program in which the medical provider or hospital participates, whichever is greatest. Medical bill advocates help save. Whether you have health insurance or not, a Medical Billing Advocate will save you money, time, and reduce the stress from having to deal with expensive, usually inaccurate medical bills.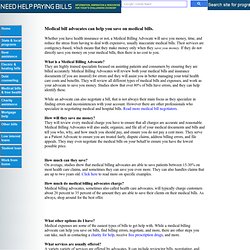 Their services are contigency-based, which means that they make money only when they save you money. If they do not directly save you money on your medical bills, then there is no cost to you. What is a Medical Billing Advocate? They are highly trained specialists focused on assisting patients and consumers by ensuring they are billed accurately. Medical Billing Advocates will review both your medical bills and insurance documents (if you are insured) for errors and they will assist you in better managing your total health care costs and benefits.
Online tools that help with medical bills. A very costly and significant issue for consumers who are trying to manage their health care costs are medical billing errors.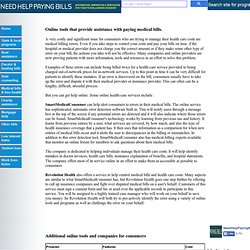 Even if you take steps to control your costs and pay your bills on time, if the hospital or medical provider does not charge you the correct amount or if they make some other type of error on your bill, the actions you take will not be effective. Many companies and online providers are now proving patients with more information, tools and resources in an effort to solve this problem. Examples of these errors can include being billed twice for a health-care service provided to being charged out-of-network prices for in-network services. Up to this point in time it can be very difficult for patients to identify these mistakes. If an error is discovered on the bill, consumers usually have to take up the error and dispute it with their medical provider or insurance provider. State aid and assistance programs. Disability assistance is administered by most state governments.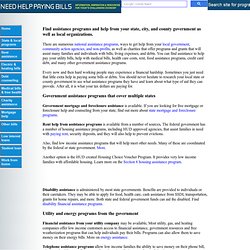 Benefits are provided to individuals or their caretakers. They may be able to apply for food, health care, cash assistance from SSDI, transportation, grants for home repairs, and more. San Francisco assistance programs. Find help with rent and housing The federal government is providing San Francisco California funds to help those in need pay for rent and other housing costs.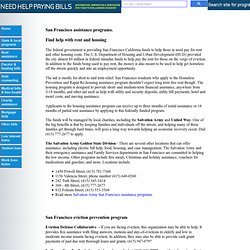 The U.S. Grants help with bills. Each and every year private foundations, states, and the United States Government give away billions of dollars in free grants from their programs.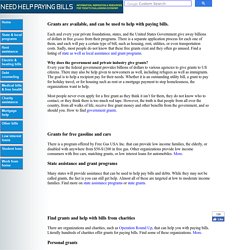 Sadly, most people do not know that these free grants exist. Find a listing of state as well as local assistance and grant programs. How to find assistance with hospital bills. The best way to get assistance with hospital bills is to request help before your admittance or surgery.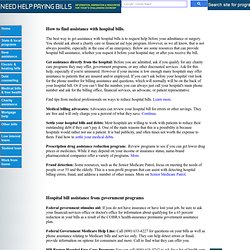 You should ask about a charity care or financial aid type program. However, as we all know, that is not always possible, especially in the case of an emergency. Below are some resources that can provide hospital bill assistance, whether you request it before your hospital stay or after you receive the bill. Get assistance directly from the hospital: Before you are admitted, ask if you qualify for any charity care programs they may offer, government programs, or any other discounted services. Ask for this help, especially if you're uninsured. Free health care Health Resources and Services Administration (HRSA)
The HRSA is the main federal government agency that is responsible for improving access to health care services for families and individuals who are uninsured, underinsured, medically vulnerable, or who need assistance with paying their medical bills. Health centers that are federally funded will care for you and provide you with medical help, even if you have no health insurance. You just need to pay what you can afford (if anything), based upon your income. When a Health Resources and Services Administration approved clinic offers this type of fee structure, it is often referred to as a sliding fee scale or variable rate. Help with medical bills. Get information on resources and assistance programs that can help with medical bills.
Learn where to find free or affordable medical or dental care as well as prescription medications. Low income families, seniors and people who either lack health insurance or who are underinsured can explore various assistance programs for their medical needs and health care costs. Many pharmaceutical companies offer patients discounted or free prescription medications.
---