Apps & iPad
Reflection.app. Mac|Life. Bootable Lion Drive. [Editor's note: This article is part of our series of articles on installing and upgrading to Lion (OS X 10.7).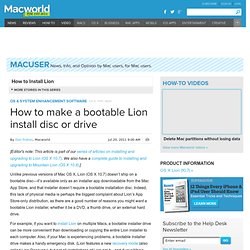 We also have a complete guide to installing and upgrading to Mountain Lion (OS X 10.8).] Unlike previous versions of Mac OS X, Lion (OS X 10.7) doesn't ship on a bootable disc—it's available only as an installer app downloadable from the Mac App Store, and that installer doesn't require a bootable installation disc. Indeed, this lack of physical media is perhaps the biggest complaint about Lion's App Store-only distribution, as there are a good number of reasons you might want a bootable Lion installer, whether it be a DVD, a thumb drive, or an external hard drive.
For example, if you want to install Lion on multiple Macs, a bootable installer drive can be more convenient than downloading or copying the entire Lion installer to each computer. Apple. iPhone Life. SlideShark. Macworld.
---