Architecture
Andrea Cochran Landscape Architecture. Ecotecture | Journal of ecological design. Apartment Therapy. Bank of America Tower. Perkins+Will Sites Sites GlobalCanada About Us News Research Publications Careers History Media.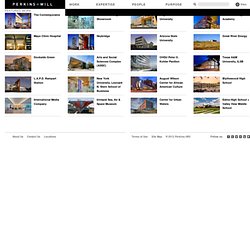 William McDonough + Partners. Green architecture notes » Products. Green architecture notes. Feldman Architecture. Located in a nature preserve in the Santa Lucia Mountains, the site of oak forests and steep meadows strongly impacted and inspired Feldman Architecture's design for House Ocho.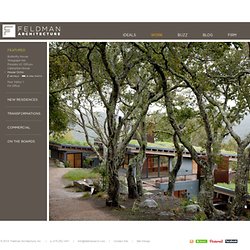 In order to reduce the impact of the home's massing and to preserve site lines, the building settles into the ground and overhanging roofs are planted with tall native grasses. The house is also divided up into a series of pavilions to lessen its overall mass. After passing through an entry grove, visitors can see distant views between and over the various building elements. Green Roof House Ocho is a Santa Lucia Mountain Retreat. Built into the side of a hill, the House Ocho in Carmel, California is a sustainable house offering breathtaking views.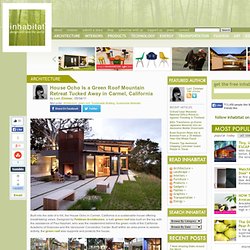 Designed by Feldman Architecture, a lush green roof was built on the top with the assistance of Paul Kephart, who was the mastermind behind the green roofs of the California Academy of Sciences and the Vancouver Convention Center. Built within an area prone to seismic activity, the green roof also supports and protects the house. The House Ocho comes alive with beautiful flowers, such as poppies and goldfields, as well as strawberries, Sand Sedge and yarrow, further blending the home in with the foliage and vegetation of the hill.
---