Architecture
Andrea Cochran Landscape Architecture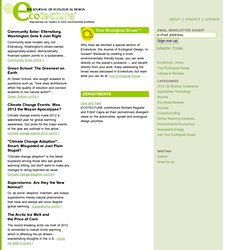 Community Solar: Ellensburg, Washington Gets It Just Right Community solar models vary, but Ellensburg, Washington's citizen-owned, appropriately-scaled, democratically financed system points to a sustainable… Community Solar cont'd > Green School: The Greenest on Earth
Ecotecture | Journal of ecological design
Perkins+Will Sites Sites GlobalCanada About Us News Research Publications Careers History Media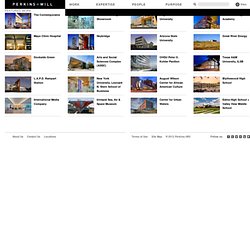 Bank of America Tower
William McDonough + Partners
green architecture notes » Products
green architecture notes
What does it mean to be "green" 20 feet underground? This is the question being addressed by the Lowline, a proposal for 60,000 square feet of subterranean public space in an abandoned trolley terminal in New YorkCity's Lower East Side. Situated at the foot of the Williamsburg Bridge and beneath the city streets, the environment of the former Williamsburg Trolley Terminal consists of nearly 1.5 acres of crisscrossing railroad tracks, cobblestones, and a forest of steel columns supporting a vaulted concrete and asphalt ceiling. One would be hard-pressed to find anything green within the cavernous interior–not even a blade of grass. It is a forgotten relic of New York's past, once a critical element in the city's infrastructure and civic life now unseen and underutilized.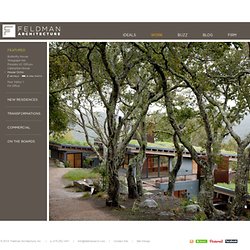 Feldman Architecture
Located in a nature preserve in the Santa Lucia Mountains, the site of oak forests and steep meadows strongly impacted and inspired Feldman Architecture's design for House Ocho. In order to reduce the impact of the home's massing and to preserve site lines, the building settles into the ground and overhanging roofs are planted with tall native grasses. The house is also divided up into a series of pavilions to lessen its overall mass. After passing through an entry grove, visitors can see distant views between and over the various building elements.
Built into the side of a hill, the House Ocho in Carmel, California is a sustainable house offering breathtaking views. Designed by Feldman Architecture, a lush green roof was built on the top with the assistance of Paul Kephart, who was the mastermind behind the green roofs of the California Academy of Sciences and the Vancouver Convention Center. Built within an area prone to seismic activity, the green roof also supports and protects the house. The House Ocho comes alive with beautiful flowers, such as poppies and goldfields, as well as strawberries, Sand Sedge and yarrow, further blending the home in with the foliage and vegetation of the hill.
Green Roof House Ocho is a Santa Lucia Mountain Retreat