Blacksmithing
DVD-Video: The Hofi Hand Hammer - ANGELE Schmiedetechnik - ANGELE-SHOP
Blacksmiths' Forging Hammers The style of my forging hammers is from central Europe, I worked with the Czech smith Vaclav Jaros in 1984 where I first used a hammer of this style and found it to be very easy to use and felt good in my hand. The hammer I made for myself became my prototype and it is in use every day. The hammers in this pattern have a broad cross peen f or effective stretching and rounded edges on the square face to minimize hammer marks. I started decorating my tools after I had been carving many wizard and dragon candleholders that I used to sell through galleries.
Hammers, hand-forged, carved with elven faces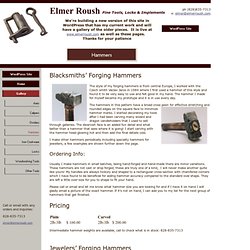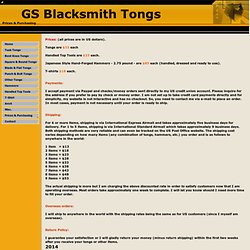 Prices: (all prices are in US dollars). Tongs are $33 each Handled Top Tools are $33 each. Japanese Style Hand-Forged Hammers - 2.75 pound - are $85 each (handled, dressed and ready to use).
GS Hammers & Tools
Stumptown Forge Blacksmith Portland OR Contact
The Japananese Blacksmith Hammers
FAQs (Frequently Asked Questions)
Application | Rocky Mountain Smiths
BILL EPPS updates... - Blacksmithing, General Discussion - I Forge Iron
So let me tell ya'll something....you missed out on a really awesome day. Bill started out making is horse with a tail out of a horseshoe. Then went into making a flower pot holder, leaf, tongs, hoof pick, rams head....all before lunch. Then we all ate some great food provided by the Tanner family(with lots of help from Sarah!!!) And did Iron in the Hat. We had 3 tables FULL of items plus some heavy stuff laid around also...Then came the anvil raffle.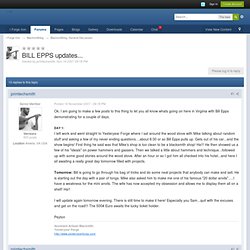 (Image by permission from "The Plaza del Herrero" in Ecuador.) "Golden Age Forge" Welcome Friends! "Foundry" spoken here too.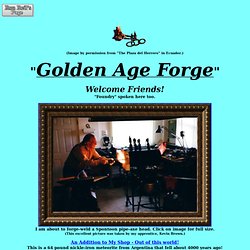 Ron's Forge Page
Forge and Burner Design Page #1 (Note: This page is now broken into two pages, #1 and #2) ©Golden Age Forge Jump to page #2 I am about to forge-weld a Spontoon pipe-ax head.(This excellent image was taken by my apprentice, Kevin Brown) A New Addition to My Shop - Out of this world!
Forge and Burner Design Page #1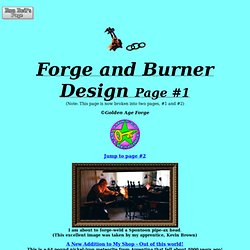 Pieh Tool - Blacksmith & Farrier Tools, Anvils, Books
Blacksmith Supply LLC
Resources Blacksmithing Supplies Centaur Forge Phone: (800) 666-9175 Website: http://www.centaurforge.com/ Kayne & Son Custom Hardware, Inc.Phone: (828) 665-8868Website: http://www.kayneandson.com/ Morrell Metalsmiths is a buyer and seller of used and new blacksmithing equipmentPhone: (413) 624-1200Fax: (413) 624-1201E-mail: artisans@morrellmetalsmiths.com.
Resources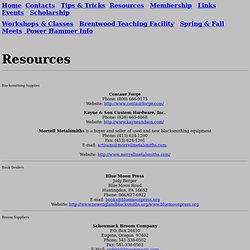 iForge (Interactive Forge) Step-by-step Blacksmith Projects
Mark Aspery Blacksmith
Kaowool Blankets, Board and Rigidizer
Raleigh Wrought Iron and Fence Co. Custom Wrought Iron Railings in Raleigh NC, Custom Wrought Iron Fence in Durham, Custom Wrought Iron Gates in Chapel Hill, Custom Wrought Iron Balcony in Raleigh, Aluminum Fence in Raleigh
Thermal Ceramics Kaowool
About Centaur Forge
Anvils, Tools and Blacksmithing items in Matchless Antiques store on eBay!
Pine Ridge Burners - Frequently Asked Questions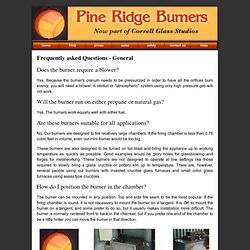 Yes. Because the burner's plenum needs to be pressurized in order to have all the orifices burn evenly, you will need a blower. A venturi or "atmospheric" system using only high pressure gas will not work. Yes. The burners work equally well with either fuel. No.
A & C Distributors P. O. Box 70228, San Diego, CA 92167. TEL: (619) 222-9946. Distributes patinas for blacksmiths. ABCD Industries 1320 Light Street, Baltimore, MD 21230 TEL: (410) 727-4111 Rivets available in bulk.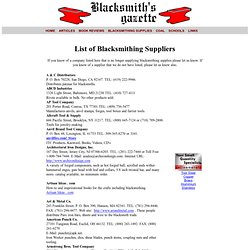 Blacksmithing Supplies
Silicon bronze, Copper, brass, aluminum, stainless steel, tin, lead and zinc | Atlas Metal Sales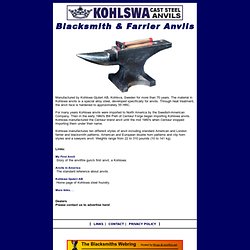 Kohlswa Blacksmith and Farrier anvils
Manufactured by Kohlswa Gjuteri AB, Kohlsva, Sweden for more than 70 years. The material in Kohlswa anvils is a special alloy steel, developed specifically for anvils. Through heat treatment, the anvil face is hardened to approximately 55 HRC.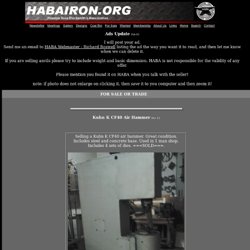 HABA For Sale
June 12 My husband builds furniture... www.tyloyola.com if you would like to take a look. He used to have a larger production and did a lot of his own ironwork.
:: strix.org.uk :: tools :: stencil generator ::
Forge & Fire
The Blacksmith's Forge The forge hearth is the center of focus of the blacksmith's work. It is in the fire of the forge that the iron is heated to incandescent red, orange, yellow and white heats. For only at these highly elevated temperatures can the iron and steel be made plastic enough to be shaped and deformed easily and without damage to their granular structure.
Art of Manliness
Ribbon Burner Build - Gas Forges - I Forge Iron
OK we now have a semi-cured castable block. The other day I took off the side forms (after about 36 hours curing) to allow the side to cure better. Now its time to take off the bottom form.
Claying Forges : Coal forge linings
Build Your Own Blacksmith Forge
Bladesmith's Forum Board
Contact
Site Map
Dove Knives, Artistry in Damascus
Pro-Forge
The American Blacksmith. Blacksmith Arts. Blacksmith. Hardie Tools. Hardy Tools. Upper Tools. Top Tools. Bottom Tools. Swages. Swage Blocks. The American Blacksmith. Blacksmith Arts. Blacksmith. The Art of Blacksmithing. Vises. Vices. The Art of Blacksmit
History of Blacksmithing - David Burtt
History of the Blacksmith
Lorelei Sims - Artist/Blacksmith - BLACKSMITHCHIC.COM - Order a Copy of Lorelei's Book  THE BACKYARD BLACKSMITH
Kayne & Son | Blacksmiths Depot | Books
Plans to build a simple gas forge
Old World Anvils, Blacksmith Forges, Fly Presses, Post Vises and Tools
American Bladesmith
TeachingTapes Home page!, TeachingTapes
[ABANA] The Anvil's Ring
Forgewithintention.com_Davita_Art_Farm
Nimba Anvils – The Making of a Modern Anvil, by Russell Jaqua
Anvils
Kayne & Son | Blacksmiths Depot | Home