Birdlife
Hobby Uccelli - Il Portale Italiano di Ornitologia. Federparchi: Federazione Italiana Parchi e Riserve Naturali - Europarc Italia. Il 24 maggio si celebra la Giornata europea dei parchi e si rinnova l'iniziativa della Federazione europea dei parchi (Europarc Federation) per ricordare il giorno in cui, nell'anno 1909, venne istituito in Svezia il primo parco europeo.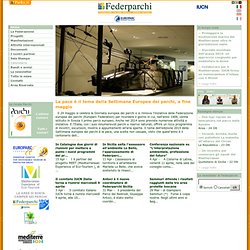 Anche nel 2014 sono previste numerose attività e iniziative. E l'Italia, con i suoi innumerevoli parchi e riserve naturali, offrirà un ricco programma di incontri, escursioni, mostre e appuntamenti all'aria aperta. Il tema dell'edizione 2014 della Settimana europea dei parchi è la pace, una scelta non casuale, visto che quest'anno è il centenario dell... LA RIVISTA DELLA NATURA - IL PORTALE. Birdwatching and birding tours in Italy. Tassonomia Animali Uccelli. BIRD SONGS AND CALLS WITH SPECTROGRAMS ( SONOGRAMS ) OF SOUTHERN TUSCANY ( Toscana - Italy ) - SONGS AND SPECTROGRAMS.
BirdLife International - conserving the world's birds. LIPU - Lega Italiana Protezione Uccelli. Avibase - Il Database degli Uccelli del Mondo. Il sito delle webcam sui falchi pellegrini.
---