Freewill
The Stone is a forum for contemporary philosophers and other thinkers on issues both timely and timeless.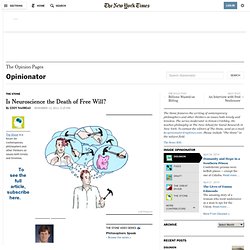 Understanding why God hardens Pharaoh's heart.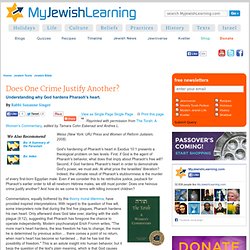 Does One Crime Justify Another?
Science and Free Will
Advances in brain science are calling into question the volition behind many criminal acts.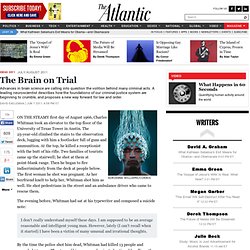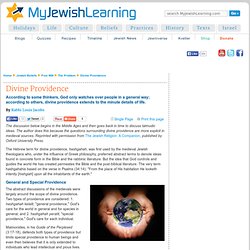 Divine Providence
According to some thinkers, God only watches over people in a general way; according to others, divine providence extends to the minute details of life. The Jewish Religion: A Companion The Hebrew term for divine providence, , was first used by the medieval Jewish theologians who, under the influence of Greek philosophy, preferred abstract terms to denote ideas found in concrete form in the Bible and the rabbinic literature.
Our experiences indicate that we have free will.
Free Will Problem in Judaism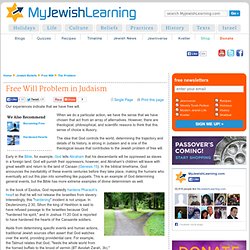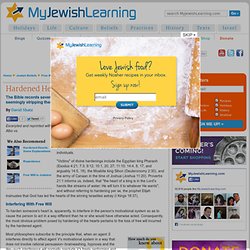 The Bible records several problematic instances of God hardening human hearts, seemingly stripping them of free will.
Hardened Hearts: Removing Free Will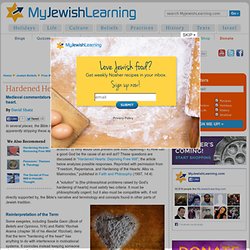 Medieval commentators suggested justifications for God's hardening Pharaoh's heart.
Hardened Hearts: Some Explanations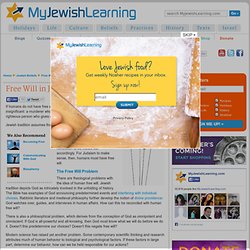 Free Will in Judaism 101
If humans do not have free will--the ability to choose--then actions are morally and religiously insignificant: a murderer who kills because she is compelled to do so would be no different than a righteous person who gives charity because she is compelled to do so. Jewish tradition assumes that our actions significant. According to the Bible, the Jews were given the Torah and commanded to follow its precepts, with reward and retribution to be meted out accordingly.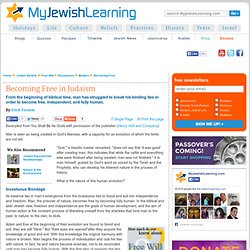 From the beginning of biblical time, man has struggled to break his binding ties in order to become free, independent, and fully human.
Becoming Free in Judaism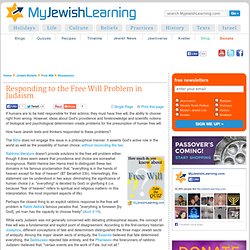 Responding to the Free Will Problem in Judaism
If humans are to be held responsible for their actions, they must have free will, the ability to choose right from wrong.
Modern thinkers have addressed the free will problem by questioning the authority of science, acknowledging the limits of freedom, and asserting the transcendent importance of choice. Medieval Jewish thinkers were concerned with reconciling the contradictions between human free will and divine providence and foreknowledge. Modern Jewish thinkers, on the other hand, have been primarily concerned with the challenges to free will posed by the natural and social sciences.
The Free Will Problem: Modern Solutions
Psychological Determinism and Free Will
Can we choose our way?
In the Middle Ages, Jewish thinkers struggled to reconcile God's knowledge of the future with human choice. The Jewish Religion: A Companion
The Free Will Problem: Medieval Solutions
According to some Hasidic thinkers, human free will is an illusion; God causes all human actions. There were at least two distinct clusters of ideas in Hasidism congenial to the denial of free will in one form or another, and which historically exerted pressure in that direction. The first was the Hasidic interpretation of the (Divine "contraction") in the kabbalistic thought of Isaac Luria, [known as] the "Ari."
The Denial of Free Will in Hasidic Thought
The Free Will Problem: Early Solutions
Biblical and rabbinic sources stress both divine determinism and human freedom. "There was no other way of expressing the uncanny, overpowering, 'demonic' character of the power of sin, than by seeing this too as a work of Yahweh [God], even if one executed in anger (J. Köberle)."
Argument from Free Will
Noach_5772