PHP/Web Design
Get flash to fully experience Pearltrees
Product: ASP Appointment Calendar
Hey there folks!
A few weeks ago I was reading an article on form UI by Luke Wroblewski of Yahoo!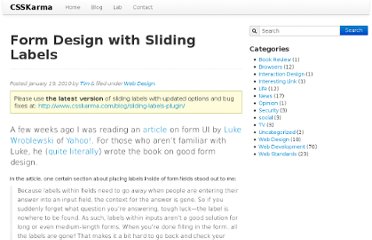 We hear plenty usability tips and techniques from an incalculable number of sources. Many of the ones we take seriously have sound logic, but it's even more validating when we find actual data and reports to back up their theories and conjectures.
Online Generators for Web Designers can be a great way to save time in your web design projects.
As a designer, color management should be an integral part of your workflow. A website's color scheme helps shape its identity and therefore should not be carelessly thrown together. Here are 25 online, desktop and iPhone applications to help you live and breathe color management no matter where you are. Online Tools There are simply a ton of free color tools available on the web.
Recall from the PHP Forms Lesson where we used an HTML form and sent it to a PHP web page for processing.
I've made some stores in virtuamart, both 1 series and 2 series. I am very frustrated with the way this product has turned out.