Java
Get flash to fully experience Pearltrees
If you find the links to any of my tutorials broken, you might try either: Going to Google or Bing and searching the web for pages having the same title, or Going to More articles by Richard G. Baldwin at Developer.com and searching that page for the tutorial by title.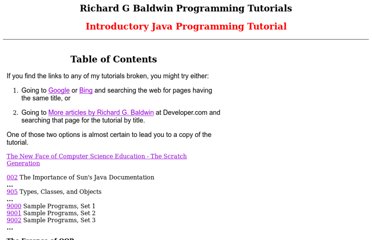 Mobiletuts+ will be covering all major mobile platforms – iPhone, Windows, Android and Blackberry. Today we'll be taking a look at Android development: explaining why people have choosen to work with Android and providing an overview of the Eclipse IDE and its Java, DDMS and debugging perspectives. Finally, you'll learn how to get started making your first Android app! Android 101 Tutorials:
Convert from type X to type Y Tag(s): String/Number String/Number integer to String : int i = 42; String str = Integer.toString(i); or String str = "" + i double to String : String str = Double.toString(i); long to String :
BXML is an XML-based markup language for simplifying the construction of Java object hierarchies. While it is most often used to define the user interface of an Apache Pivot application, it is not limited to user interface construction, and can actually be used to create hierarchies of any object type. This document introduces the BXML language and explains how it can be used to create and configure a collection of Java objects. BXMLSerializer The org.apache.pivot.beans.BXMLSerializer class is used to load a structure defined in a BXML file.
Find out how Java Web Start aids client-side deployment By Raghavan N. Srinivas, JavaWorld.com, 07/06/01 Java applets fuelled Java's initial growth. The ability to download code over the network and run it on a variety of desktops offering a rich user interaction proved quite compelling.
Oracle Oracle Technology Network Java Java SE Technologies