Inspiracion
100 Inspiring Quotes for Everyone | How to Live
1.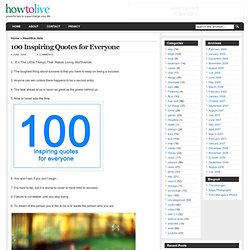 CSS Gallery.com CSS Design and CSS Gallery Showcases JEN.GS to ERANOS.FR the Best CSS Galleries and CSS Designs of CSS Web sites Inspiration.
Extreme Programming | agile-spain.com
Motivational phrases can do us wonders . Just when we think we've lost it all, or we're incredibly depressed, or just don't know what to do next, we'll come across a motivational phrase and things seem to fall into place. It isn't hard to be inspired when you read words of wisdom. Sometimes life throws us a turn .
Top Ten Motivational Phrases to Inspire You in Rough Times, Page