Web Development
Resources. The Web Standards Project. SEO - Search Engine Optimization. Creating a Wordpress Theme. Databases. Java Resources. Open Web Design - Download Free Web Design Templates. W3C Validation & SEO - Yoast - Tweaking Websites. 45 Free eBooks for Developers and Designers | Speckyboy Design Magazine. Over the past year or so we have published several articles featuring a selection of the best free ebooks for web designers, with each post proving very popular and highly resourceful.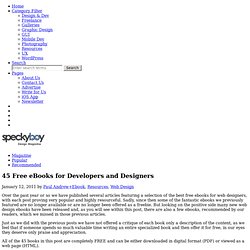 Sadly, since then some of the fantastic ebooks we previously featured are no longer available or are no longer been offered as a freebie. But looking on the positive side many new web design ebooks have been released and, as you will see within this post, there are also a few ebooks, recommended by our readers, which we missed in those previous articles. Just as we did with the previous posts we have not offered a critique of each book only a description of the content, as we feel that if someone spends so much valuable time writing an entire specialized book and then offer it for free, in our eyes they deserve only praise and appreciation.
All of the 45 books in this post are completely FREE and can be either downloaded in digital format (PDF) or viewed as a web page (HTML). 15 Free Dynamic Flash XML Photo Galleries | Freebies. Thanks to internet and resources available that you don't have to develop anything from scratch.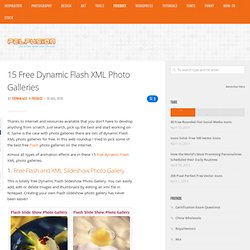 Just search, pick up the best and start working on it. Same is the case with photo galleries there are lots of dynamic Flash XML photo galleries for free. 10 Free EBooks for Web Designers. Several weeks ago we published a post that told you about 10 free online books for web designers.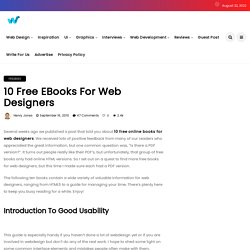 We received lots of positive feedback from many of our readers who appreciated the great information, but one common question was, "Is there a PDF version?". It turns out people really like their PDF's, but unfortunately, that group of free books only had online HTML versions. So I set out on a quest to find more free books for web designers, but this time I made sure each had a PDF version.
The following ten books contain a wide variety of valuable information for web designers, ranging from HTML5 to a guide for managing your time. There's plenty here to keep you busy reading for a while.
Wordpress. Social Media. Website and Blog Development. Positive Inspiration and Creative Motivation Why is youtube so useful?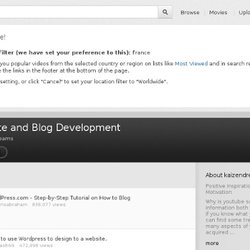 It is full of information both useful and useless, but if you know what you are looking for you can find some treasures and improve many aspects of your life through acquired knowledge and information. How to Make a Slideshow with a Transparent PNG Frame | Build Internet! Today's tutorial is headed back to the basics.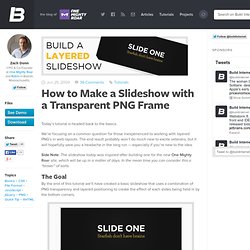 We're focusing on a common question for those inexperienced to working with layered PNG's in web layouts. The end result probably won't do much new to excite veterans, but it will hopefully save you a headache in the long run — especially if you're new to the idea. Side Note: The slideshow today was inspired after building one for the new One Mighty Roar site, which will be up in a matter of days.
---