Python
Graph Description In mathematics and computer science, graph theory studies networks of connected nodes and their properties.
NodeBox | Graph Python API Tutorial for AllegroGraph 4.0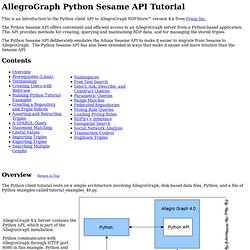 This is an introduction to the Python client API to AllegroGraph RDFStore™ version 4.2 from Franz Inc. The Python Sesame API offers convenient and efficient access to an AllegroGraph server from a Python-based application. This API provides methods for creating, querying and maintaining RDF data, and for managing the stored triples.
Resources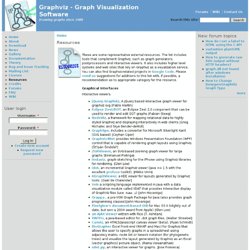 These are some representative external resources. The list includes tools that complement Graphviz, such as graph generators, postprocessors and interactive viewers. It also includes higher level systems and web sites that rely on Graphviz as a visualization service.
shah09a
pbnt.berlios
Welcome to Google App Engine for Python! With App Engine, you can build web applications using the Python programming language, and take advantage of the many libraries, tools and frameworks for Python that professional developers use to build world-class web applications. Your Python application runs on Google's scalable infrastructure, and uses large-scale persistent storage and services. Introduction
App Engine Python Overview - Google App Engine - Google Code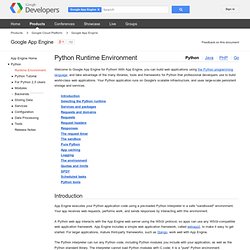 Category:Programming language:Python - LiteratePrograms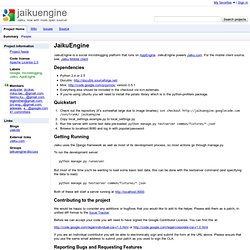 JaikuEngine is a social microblogging platform that runs on AppEngine. JaikuEngine powers Jaiku.com. For the mobile client source, see: Jaiku Mobile client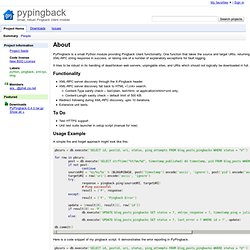 PyPingback is a small Python module providing Pingback client functionality.
pypingback - Project Hosting on Google Code
pebl-project - Project Hosting on Google Code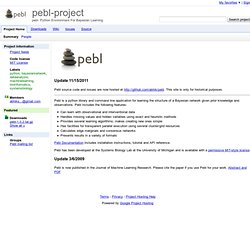 Update 11/15/2011 Pebl source code and issues are now hosted at http://github.com/abhik/pebl.
Warning The pyexpat module is not secure against maliciously constructed data.
19.5. xml.parsers.expat — Fast XML parsing using Expat — Python v2.7.1 documentation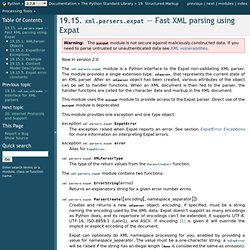 RDFLib
Creatures | City in a Bottle
PyAIML (a.k.a. Program Y) - A Python AIML Interpreter
Pydev
trendrr/whirlwind - GitHub
Python and XML Processing: Other Software
bayesian-inference - Project Hosting on Google Code
This package is a collection of useful classes for basic Bayesian inference.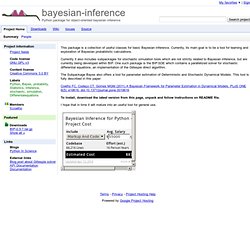 visualization-python - Project Hosting on Google Code
Overview — Official Grok v1.2.1 documentation
Overview — PyGraphviz v1.1 documentation