Creative Portfolio Websites and Resources
Where do you have your portfolio online? Are you networking as much as possible? These websites should help you in your journe as an artist, photographer, model, or any creative field to show your work to the world, network with others and perhaps even grow and find inspiration along the way. Sep 16
Computerlove - Contemporary Creative Culture
Computer Arts is the magazine for people who believe design matters, and has been inspiring and informing graphic designers and illustrators since 1995. With both a deluxe print edition and a fully-interactive, bespoke iPad edition, Computer Arts brings you behind-the-scenes access to cutting-edge design projects, in-depth analysis and incisive opinions from the design world's thought leaders, plus the very best new work from the global design community. Whether it's a shift in creative thinking or a change to the business of design, you can rely on Computer Arts to bring you detailed analysis of the pivotal events. We'll introduce you to the industry's most exciting trailblazers as well as highlighting the world's freshest new talent, digging deep to discover what makes each of them special.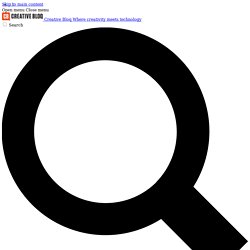 Computer Arts magazine | Inspiration, Technique, Great Design
BOOOOOOOM! - CREATE * INSPIRE * COMMUNITY * ART * DESIGN * MUSIC * FILM * PHOTO * PROJECTS
a selection of graphic projects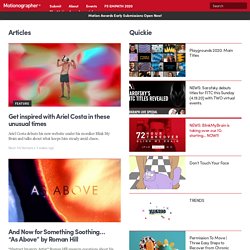 January 16, 2014 In Release 2014, HUSH gathers 100 vocal "releases" about the end of 2013 and beginning of 2014 and translates them into visual forms. Naoki Yoshibe (aka yotube) totally killing it with his 2D FX Reel. January 13, 2014 Keep Wednesday February 5th free for the first See No Evil of 2014! Evening of inspiration with the O.G's of motion design, Mainframe.
Motionographer | Digital Filmmaking, Animation, Motion Graphics, Design, Film, Visual Effects and Experimental Moving Image Storytelling
After Editorially: The Search For Alternative Collaborative Online Writing Tools I'm going to let you in on a little secret: the best writers, be it your favorite authors or those that write for Smashing Magazine, don't do it alone. Often, they work with an editor (or two), who will help them coalesce their words into something more compelling or easier to understand. Having worked with several editors — and having been a technical editor myself — I've really come to appreciate this aspect of the writing process. Refinement is an essential aspect of any creative process. As refactoring code can make a program more logical and efficient, editing a text can allow an underlying idea to be more clearly stated, or make a piece more enjoyable to read.
Smashing Network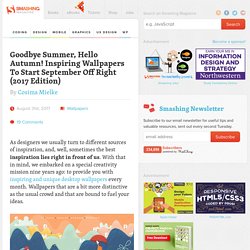 Logopond - Identity Inspiration
Computer Illustration and 3D
CGTalk
Photos blogs Galleries & Networks...
Creattica
Ads of the World™ | Creative Advertising Archive & Community
Galerie photo | Photo Gallery
Carbonmade : Your online portfolio.
Design Jobs & Portfolios
Behance Network :: Gallery
Lensbaby Spark Review by Jackie DiBenedetto, April 2014 Itching to try out a new gadget? Stuck in a creative rut? Read about this inexpensive lens that forces you "out of the box." Read More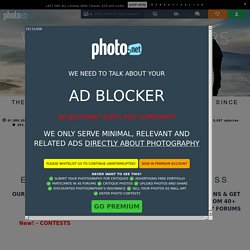 Photography community, including forums, reviews, and galleries from Photo.net
deviantART: where ART meets application!
One Model Place(tm) - Models and Photographers, Artists and Agents Portfolio Directory Showcase and Community
Professional Models, Actors, Make-Up Artists Meet Professional Photographers - OneTalentSource
Where Professional Models Meet Model Photographers - ModelMayhem