Photos
Lundi 4 octobre Navigateurs - 4 octobre 2010 :: 10:39 :: Par Eric Le moteur de recherche d'images TinEye qui permet de trouver d'un clic des images similaires ou identiques à une image donnée, s'invite dans les navigateurs web, rendant vos investigations encore plus simples. Après l'extension Firefox, disponible déjà depuis quelques temps, voici la petite sœur pour Google Chrome.
Reconnaissance d'image TinEye dans vos menus Firefox et Chrome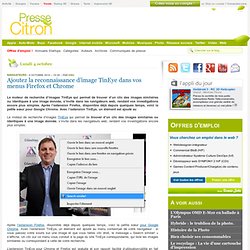 Autumn is here (for those of us in the northern hemisphere). This year, the full moon and the autumnal equinox happened on the same day, for the first time in 19 years. Evenings now come sooner and the air cools more quickly, leaves are beginning to change, crops are being harvested, harvest festivals are being held, and animals and nomads are on the move to their winter grounds. Collected here are a handful of recent images of early autumn around the northern half of our world. (35 photos total) A maple tree shows its fall colors on Friday, September 17th, 2010, in Woodstock, Maine. A vast network of county foresters, volunteers and others contribute their observations to state tourism officials, who in turn work up "foliage forecasts" published online and elsewhere to let leaf-peepers know where to find the best fall foliage.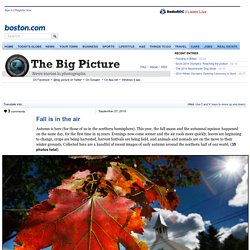 Fall is in the air
Afghanistan, September, 2010
Animals in the news