Réflexions
Steve Anderson Baseline Ventures: Instagram's First Investor Explains What He Looks For In Companies. 7 Tips for Big Brands That Want to Reach Local Consumers. National brands that add local context to their mobile campaigns can expect to see click-through rates rise to 5% to 8%, versus 0.6% for mobile display ads without local relevance, while adding something as simple as a local phone number to a Yellow Pages print display ad has been shown to increase response rates by 40%.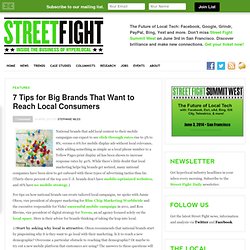 While there's little doubt that local marketing helps big brands get noticed, many national companies have been slow to get onboard with these types of advertising tactics thus far. (Thirty-three percent of the top 100 U.S. brands don't have mobile-optimized websites, and 16% have no mobile strategy.) The Startup Curve. I'm working with a few startups right now that are in various phases of Paul Graham's startup curve: Many people think startups are up and to the right all the time.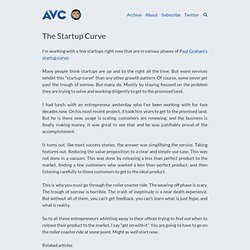 But more services exhibit this "startup curve" than any other growth pattern. Of course, some never get past the trough of sorrow. But many do. Mostly by staying focused on the problem they are trying to solve and working diligently to get to the promised land. Le répertoire des aides publiques aux entreprises. Pour améliorer les relations entre les entreprises et les pouvoirs publics, une base d'information de référence sur les dispositifs d'aide et d'accompagnement aux entreprises est mise en place.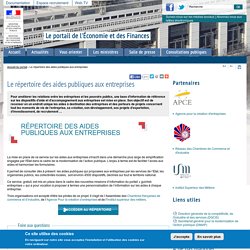 Son objectif est de recenser en un endroit unique les aides à destination des entreprises et des porteurs de projets concernant tout les moments de vie de l'entreprise, sa création, son développement, ses projets d'exportation, d'investissement, de recrutement … La mise en place de ce service sur les aides aux entreprises s'inscrit dans une démarche plus large de simplification engagée par l'Etat dans le cadre de la modernisation de l'action publique. "Recruter de nouveaux clients avec une application mobile est très rentable" Pour le co-fondateur de l'agence Bemobee, c'est l'application qui permet d'obtenir le meilleur ROI dans le cadre d'une stratégie d'acquisition clients sur mobile.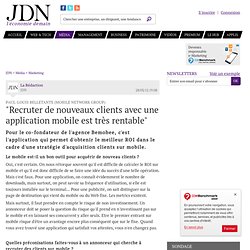 Le mobile est-il un bon outil pour acquérir de nouveau clients ? Oui, c'est certain. Technology and tools that will shape the future of how we travel. NB: This is a guest article by Brian Beard, executive technology consultant and solutions manager at Amadeus.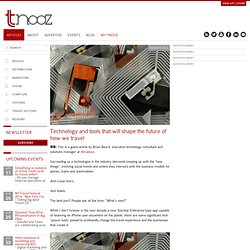 Succeeding as a technologist in the industry demands keeping up with the "new things", evolving social trends and where they intersect with the business models for planes, trains and automobiles. And cruise liners. And hotels. The best part? The Next, Next Thing. Computers have been getting steadily "better" — faster, smaller, cheaper — for sixty years.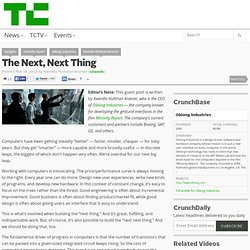 But they get "smarter" — more capable and more broadly useful — in discrete leaps, the biggest of which don't happen very often. We're overdue for our next big leap. Working with computers is intoxicating. The price/performance curve is always moving to the right. How to Fix Location-Based People Discovery. Philip Cortes is co-founder of people discovery startup Meeteor.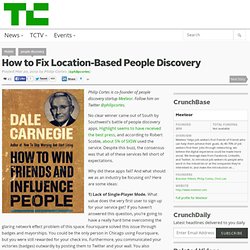 Follow him on Twitter @philipcortes. No clear winner came out of South by Southwest's battle of people discovery apps. Highlight seems to have received the best press, and according to Robert Scoble, about 5% of SXSW used the service. Why Pinterest works in the travel industry (ESPECIALLY destinations) This is not another post about how to promote via Pinterest.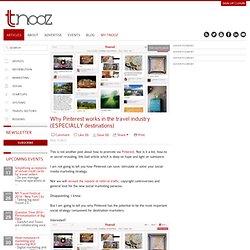 Nor is it a list, how-to or secret revealing, link-bait article which is deep on hype and light on substance. I am not going to tell you how Pinterest can save, stimulate or solve your social media marketing strategy. Nor we will recount the reports of referral traffic, copyright controversies and general love for the new social marketing panacea. How Strong Are Network Effects Online, REALLY?
---