Fonds concurrents
"Nous pouvons investir de 100 000 à 80 millions d'euros dans une start-up" Ayant quitté la Silicon Valley pour rejoindre le bureau britannique d'Accel Partners, Philippe Botteri revient sur la présence et la stratégie d'investissement du fonds en Europe.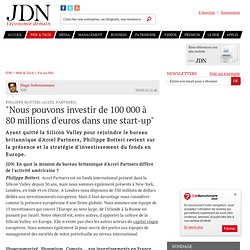 JDN. En quoi la mission du bureau britannique d'Accel Partners diffère de l'activité américaine ? Philippe Botteri. Accel Partners est un fonds international présent dans la Silicon Valley depuis 30 ans, mais nous sommes également présents à New-York, Londres, en Inde et en Chine. A Londres nous disposons de 530 millions de dollars dédiés aux investissements européens. "Nous souhaitons lever jusqu'à 80 millions d'euros pour XAnge Capital 2" Présent en France et en Allemagne, le fonds d'investissement historiquement lié au Groupe La Poste lève à nouveau et souhaite accélérer ses investissements dans le numérique.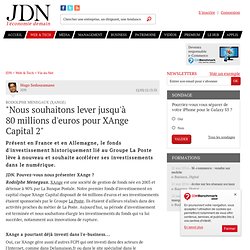 JDN. Pouvez-vous nous présenter XAnge ? Rodolphe Menegaux. XAnge est une société de gestion de fonds née en 2003 et détenue à 90% par La Banque Postale. Notre premier fonds d'investissement en capital risque XAnge Capital disposait de 64 millions d'euros et ses investissements étaient sponsorisés par le Groupe La Poste. Another European Carrier Goes VC: Orange Partners With Publicis, Iris In $400M Fund. Today sees the launch of one more venture capital fund backed by a large European telecoms carrier: Orange, the retail face of France Telecom, is teaming up with the advertising giant Publicis and Iris Capital Management to start OP Ventures Growth, a new $400-million-plus fund to back French and other European technology startups.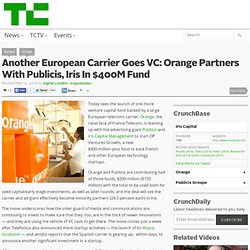 Orange and Publicis are contributing half of those funds, $200 million (€150 million) with the total to be used both for seed capital/early stage investments, as well as later rounds; and the deal will see the carrier and ad giant effectively become minority partners (24.5 percent each) in Iris. The move underscores how the older guard of media and communications are continuing to invest to make sure that they, too, are in the thick of newer innovations — and they are using the vehicle of VC cash to get there. Venture capital. Accel Partners. "Il nous reste encore 86 millions d'euros à investir" Un an et demi après sa création, le fonds de Marc Simoncini a investi 14 millions d'euros sur 16 start-up et souhaite répartir ses investissements tant en amorçage qu'en capital développement.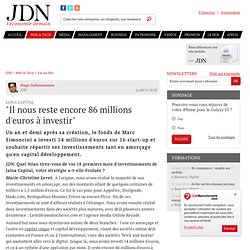 JDN. Quel bilan tirez-vous de vos 18 premiers mois d'investissements de Jaïna Capital, votre stratégie a-t-elle évoluée ? Marie-Christine Levet. A l'origine, nous avons réalisé la majorité de nos investissements en amorçage, sur des montants allant de quelques centaines de milliers à 1,5 million d'euros. "Les firmes françaises ne savent pas intégrer les start-up" Très actif en amorçage, Kima Ventures intensifie ses deals à l'international.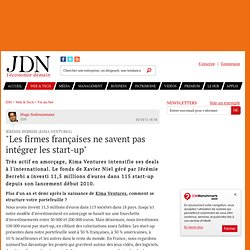 Le fonds de Xavier Niel géré par Jérémie Berrebi a investi 11,5 millions d'euros dans 115 start-up depuis son lancement début 2010. Plus d'un an et demi après la naissance de Kima Ventures, comment se structure votre portefeuille ? Nous avons investi 11,5 millions d'euros dans 115 sociétés dans 18 pays. Qui sont les fonds d'investissement les plus actifs en France.
---