Facebook
Zynga s'émancipe de Facebook avec son propre réseau social. En quête d'indépendance, Zynga vient d'entamer un véritable virage stratégique.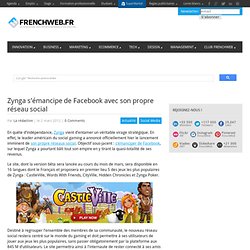 En effet, le leader américain du social gaming a annoncé officiellement hier le lancement imminent de son propre réseaux social. Objectif sous-jacent : s'émanciper de Facebook, sur lequel Zynga a pourtant bâti tout son empire en y tirant la quasi-totalité de ses revenus. Le site, dont la version bêta sera lancée au cours du mois de mars, sera disponible en 16 langues dont le Français et proposera en premier lieu 5 des jeux les plus populaires de Zynga : CastleVille, Words With Friends, CityVille, Hidden Chronicles et Zynga Poker. Destiné à regrouper l'ensemble des membres de sa communauté, le nouveau réseau social restera centré sur le monde du gaming et doit permettre à ses utilisateurs de jouer aux jeux les plus populaires, sans passer obligatoirement par la plateforme aux 845 M d'utilisateurs.
Facebook Reveals Mobile News Feed Ads and Massive Logout Page Ads. Facebook has just unveiled that premium ads built off of Page news feed posts will now be eligible to appear on the mobile news feed and the logout page, in addition to the web news feed and web sidebar.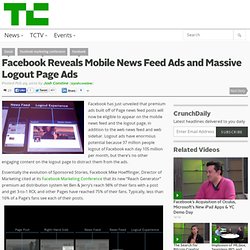 Logout ads have enormous potential because 37 million people logout of Facebook each day 105 million per month, but there's no other engaging content on the logout page to distract them from the ads. Essentially the evolution of Sponsored Stories, Facebook Mike Hoefflinger, Director of Marketing cited at its Facebook Marketing Conference that its new "Reach Generator" premium ad distribution system let Ben & Jerry's reach 98% of their fans with a post and get 3-to-1 ROI, and other Pages have reached 75% of their fans.
Typically, less than 16% of a Page's fans see each of their posts. As you can see from the wireframes above, the logout page ads are massive, reminiscent of old school magazine ads. To Justify A $100 Billion Valuation, Facebook Has To Generate $400 Of Revenue Per Member. Top 5 Reasons Facebook Should Acquire Pinterest - And Quickly. March 6, 2012 – Privately-held social media site Pinterest has been red hot since going live just 2-years ago.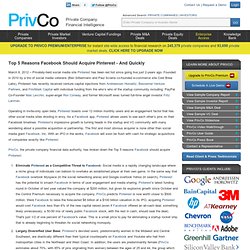 Founded in 2010 by a trio of social media veterans (Ben Silbermann and Paul Sciarra co-founded e-commerce site Cold Brew Labs), Pinterest has recently received venture capital injections from Andreessen Horowitz, Bessemer Venture Partners, and FirstMark Capital with individual funding from the who's who of the startup community including: PayPal Co-Founder Max Levchin, super-angel Ron Conway, and former Microsoft exec turned full-time angel investor Fritz Lanman. Operating in invite-only open beta, Pinterest boasts over 12 million monthly users and an engagement factor that has other social media sites drooling in envy. What does a $100bn valuation for Facebook mean? Hernan Bruno If you follow financial or technology news, you've probably already read plenty of stories about Facebook going public.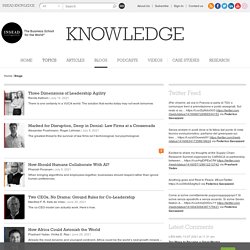 You know about all the Facebook millionaire (or billionaire!) Employees, its financials, its mission to "connect" the world, and the unusual degree of control that Mark Zuckerberg will hold.
---