Mocking
This is a plugin for the popular Visual Studio Addin Resharper . This plugin adds additional Context Actions that reduce the keystrokes and mouse clicks required to perform Test Driven Development. The goal of this project is to prototype features which make TDD in Visual Studio easier than the Drag & Drop programing that Visual Studio was designed for. It would be great if these features were rolled into Resharper or Visual Studio. Current Features: 1.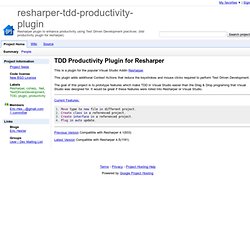 resharper-tdd-productivity-plugin - Google Code
Updated TDD Productivity Plug-in for Resharper - Eric Hexter -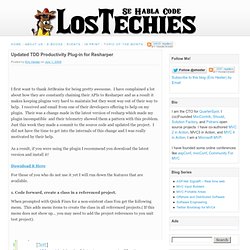 I first want to thank JetBrains for being pretty awesome. I have complained a lot about how they are constantly chaining their APIs to Resharper and as a result it makes keeping plugins very hard to maintain but they went way out of their way to help. I received and email from one of their developers offering to help on my plugin. Their was a change made in the latest version of resharp which made my plugin incompatible and their telemetry showed them a pattern with this problem. Just this week they made a commit to the source code and updated the project.
Let's start with a quick recap: Unit tests test individual software components. They supply mocks or fake versions of dependencies (such as a database) so that the unit test doesn't rely on any external code and any failures can be pinpointed exactly. Unit testing is central to Test Driven Development – the entire TDD process is driven by unit testing. Integration tests test your entire software stack working together. These tests don't mock or fake anything (they use the real database, and real network connections) and are good at spotting if your unit-tested components aren't working together as you expected.
Integration Testing Your ASP.NET MVC Application « Steve Sanders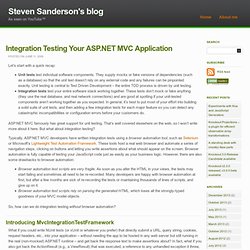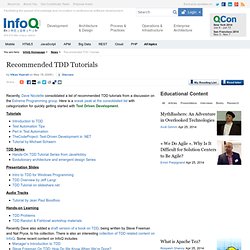 Aliaksei Papou explores how components and design patterns such as the observer and State Machine make it possible to design an application such that it can grow and change according to your needs. Jian Zhong and Eric Cole present the infrastructure virtualization, SOA and Agile development methodology used by the US National Institutes of Health (NIH). In this article, author Jim Hirschauer justifies the importance of application performance management (APM) process in organizations. He also describes a maturity model for APM. Jim Hirschauer Mar 22, 2013 ,
Recommended TDD Tutorials
Update : Development of this project has moved to GitHub . New releases and bug fixes will be published there. var mock = new Mock < ILoveThisFramework >();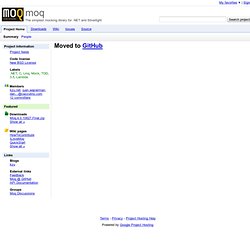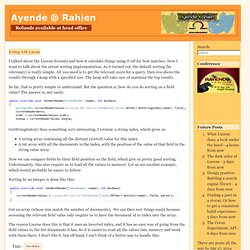 Rahien - Rhino Mocks
This is a review of RavenBurgerCo , created as a sample app for RavenDB spatial support by Simon Bartlett. This is by no means an unbiased review, if only because I had laughed out load and crazily when I saw the first page: What is this about?