Start-ups / Initiatives
Le covoiturage et les levées de fonds. Il y a tout juste un an, la SNCF et Norauto mettaient, 1,2 millions d'euros au capital de Greencove, éditeur de 123envoiture.com.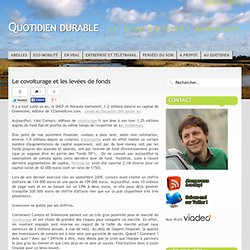 J'avais eu l'occasion d'en parler ici. Aujourd'hui, c'est Comuto, éditeur de covoiturage.fr qui lève à son tour 1,25 millions auprès du fond ISAI et profite du même temps de l'expertise de ses fondateurs. D'un point de vue purement financier, comuto a donc levé, selon mon estimation, environ 1,9 millions depuis sa création. Novacem.
Video: Meet ecoATM, The Reverse Vending Machine That Takes Your Phone & Spits Out Cash. I'm down in sunny San Diego for the CTIA wireless conference — which, thanks to some last minute announcement cancellations, is about as exciting as listening to Ben Stein narrate grass growing.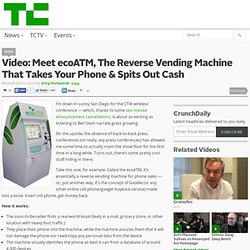 On the upside, the absence of back-to-back press conferences (or really, any press conferences) has allowed me some time to actually roam the show floor for the first time in a long while. Turns out, there's some pretty cool stuff hiding in there. Take this one, for example: Called the ecoATM, it's essentially a reverse vending machine for phone sales — or, put another way, it's the concept of Gazelle (or any other online cell phone/gadget buyback service) made into a kiosk.
Insert old phone, get money back. How it works: AO-113 Etude de marché - diffusion de cuiseurs solaires. Référence Projet: MG0945.01 – "Solar Madagascar - Developing a new business model for providing sustainable energy in rural areas in Madagascar" 1.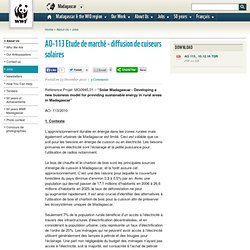 Contexte L'approvisionnement durable en énergie dans les zones rurales mais également urbaines de Madagascar est limité. Ceci est valable que ce soit pour les besoins en énergie de cuisson ou en électricité. Minimalist effect in the maximalist market ~ ANTREPO // A2591. Our last project is about simplicity and we try to find alternate simple versions for some package samples of the international brands.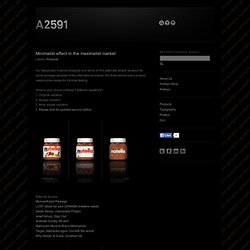 We think almost every product needs some review for minimal feeling. What is your choice in these 3 different variations? 1. Alter Eco, l'essor d'une marque à part. Alter Eco, la jeune marque de commerce équitable française, démontre que "développement durable" peut rimer avec "rentable".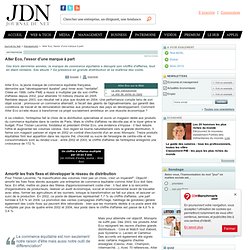 Créée en 1999, cette PME a réussi à multiplier par dix son chiffre d'affaires depuis 2002, pour atteindre 10 millions d'euros en 2005. Rentable depuis 2003, son résultat net a plus que doublé en 2004. OW2.0:Plastic to Oil Fantastic.
Paperless Billing Service Doxo Raises $10 Million In Series B Funding. Evian Natural Spring Water, 1 Liter Reviews and Ratings. According to Climate Counts, this company is striding in the race to address climate change.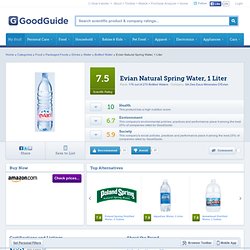 Climate Counts is a non-profit campaign that scores companies annually on the basis of their voluntary action to reverse climate change. The Climate Counts Company Scorecard helps people vote with their dollars by making climate-conscious purchasing and investing choices that put pressure on the world's most well-known companies to take the issue of climate change seriously. Launched by organics pioneer Stonyfield Farm, Climate Counts believes everyday consumers can be the most important activists in the fight against global warming. Climate Counts has currently evaluated 106 companies—representing over 3000 different brands—in thirteen major consumer sectors with plans to expand the number of companies and sectors soon.
---