Diy
DIY Beach Glass Jars & Bottles. Wednes-DIY Home Décor: The Light Bulb Vase. This week we're sharing some of the blog's greatest hits!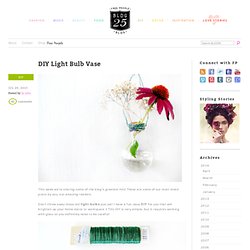 These are some of our most loved posts by you, our amazing readers. Don't throw away those old light bulbs just yet! I have a fun, easy DIY for you that will brighten up your home decor or workspace :) This DIY is very simple, but it requires working with glass so you definitely need to be careful! What you need: A light bulb (any shape or size will work!) , pliers and gardening wire. Bing. Felt Slippers. Homemade slippers of thick wool felt make a heartwarming (and foot-warming) gift.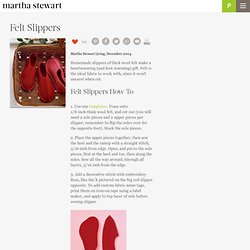 Felt is the ideal fabric to work with, since it won't unravel when cut. Felt Slippers How-To1. Felt Fortune Cookies - Martha Stewart Holidays. DIY Satsuma Candle. A friend of mine DIYed her own candles, made from the peels of Satsuma oranges, for a recent dinner party.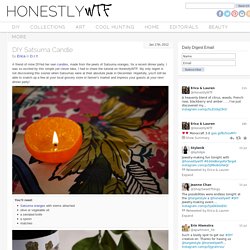 I was so excited by this simple yet clever idea, I had to share the tutorial on HonestlyWTF. My only regret is not discovering this sooner when Satsumas were at their absolute peak in December. Hopefully, you'll still be able to snatch up a few at your local grocery store or farmer's market and impress your guests at your next dinner party! The stem side of the Satsuma will be the bottom and base of the candle. Lightly score a ring around the top 1/3 portion of the orange. Chalkboard Paint. Sewing 101: recycled paper basket. Thanks to a few recent online purchases, I had an enormous pile of long brown packing paper strips in my studio.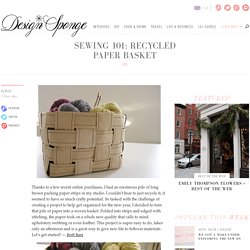 I couldn't bear to just recycle it; it seemed to have so much crafty potential. So tasked with the challenge of creating a project to help get organized for the new year, I decided to turn that pile of paper into a woven basket.
---